Morgans Pomade Is The Oldest Manufacturer Of Hair And Beard Products In The UK
Established In 1873 we pride ourselves on high quality professional hair, beard and spa products using the best expertly sourced raw materials and the latest technologies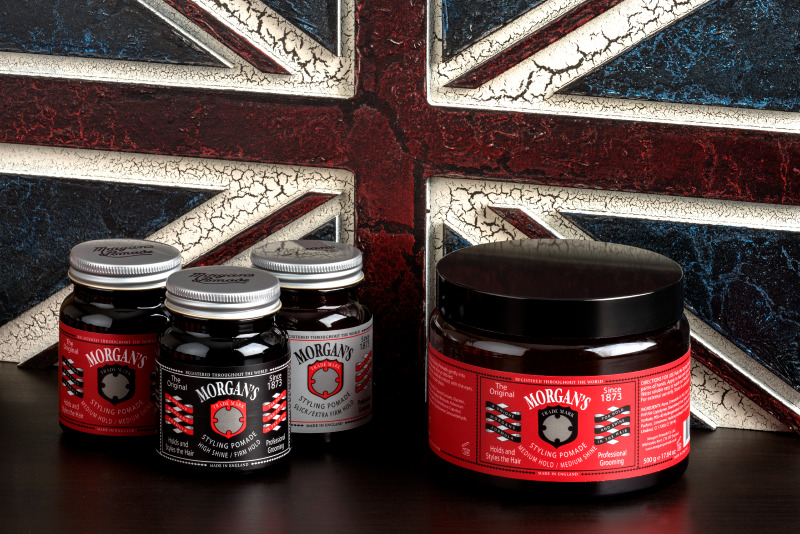 The Morgan's Men's Retro Barber range includes an extensive collection of male grooming products. Today Morgan's is still a family run business which has become a household name at home and around the world. We manufacture from our Whitstable site with a range of over 200 different products with our original Pomade selling over 1 billion jars to date. We aim to continue to provide quality highly developed products with old fashioned values.

Modern man has become increasingly concerned with appearance and beards are big! Men all over the world reach for Morgan's to achieve a classic well-groomed look with products to suit every individual style and taste. We make and supply hair styling products which come as paste, fudge, gel, clay, tonics and oil to name but a few along side our original pomades. The original Morgan's Hair Darkening Pomade is still hugely popular especially in warm climates as the heat activates the darkening agent. We have a wide range of beard products, waxes, creams and oil including our very popular Brazilian Orange Beard Oil.

In the last five years we have further developed our bespoke Women's range of hair shampoo, conditioner, skin care and spa products. We make the hair care in salon and personal use sizes and we now also have a natural Honey hand care range.

And more recently we supply our own high quality hand sterilizers, sprays and gels for salons, businesses and personal use.

Please look at our easy to use Website to read more about our history and peruse the range of products, accessories and merchandise from the Morgan's brand.