New PORTAdec 500 Portable Decontamination Misting Shower From Hughes Safety
Helping businesses support their COVID-19 containment strategies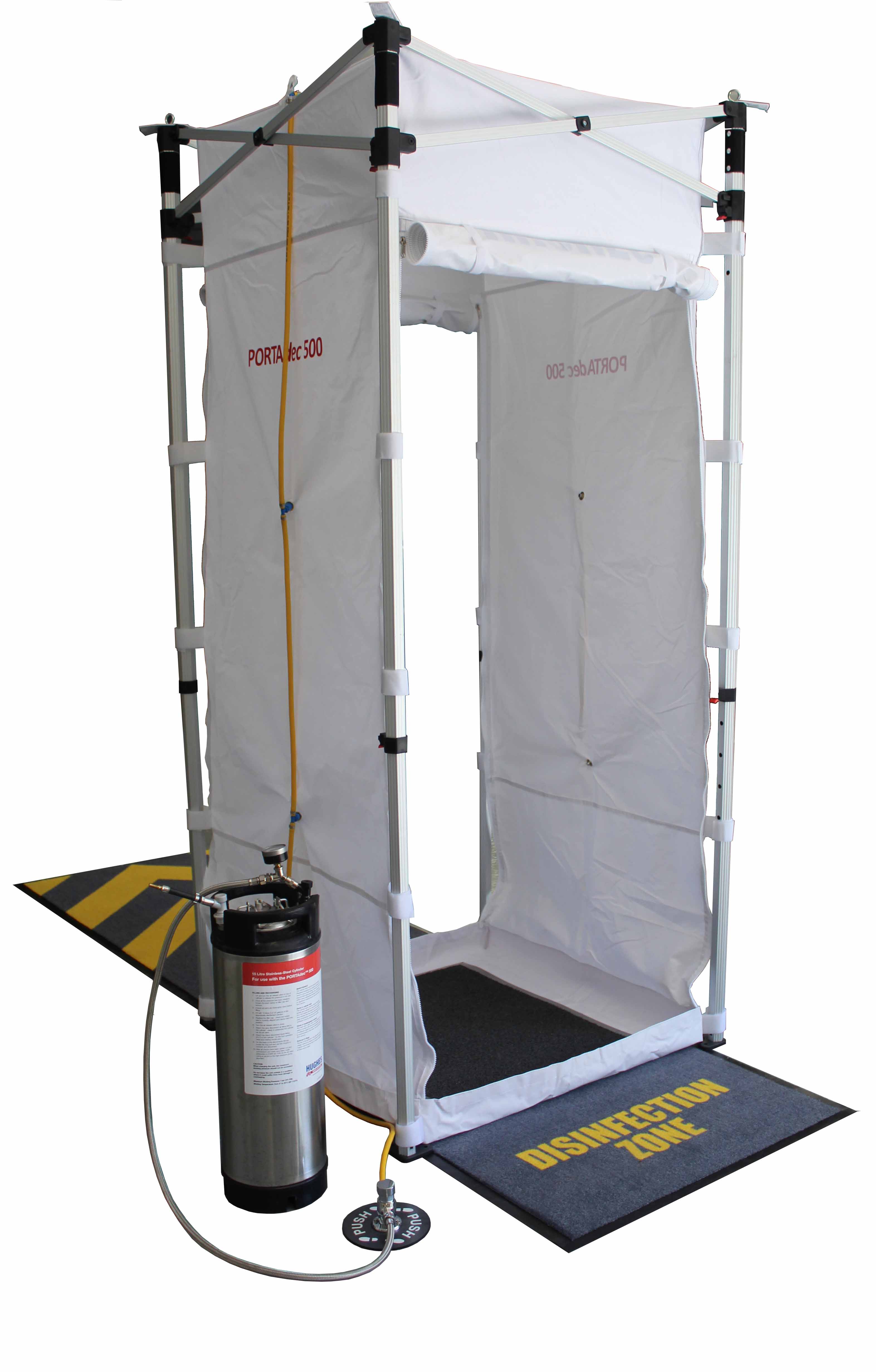 Hughes Safety Showers are proud to announce the launch of the PORTAdec 500, a portable multi-nozzle decontamination misting shower, suitable for general use as part of overall hygiene facilities or for the decontamination of PPE prior to removal.

In these unprecedented times as more businesses begin to re-open, the safety of the workforce is paramount. With the PORTAdec 500, users are provided with a top to toe decontamination via a fine mist of electrolyzed water. 100% safe for human use, and of no danger to the environment, this disinfectant solution is non-toxic and can be used on clothes and skin. In addition, a self-sanitising mat at the base of the unit ensures the soles of shoes are decontaminated prior to stepping onto the drying area of the demarcation zone mat.

A 15 litre cylinder is filled with the electrolyzed water and requires no power, allowing the unit to be entirely portable and suitable for use both indoors and outdoors. All components are stored within a transportable case on wheels and are quickly deployed.

With over 50 years expertise in the design, manufacture and supply of emergency safety showers, eye/ face wash and decontamination equipment, Hughes are ideally placed to offer innovative engineered solutions for demanding life-saving situations and for the current circumstances we now face", commented Paul Darlington, Managing Director of Hughes Safety Showers. "With enquiries from manufacturing and petrochemical sites to dentists and adult learning centres, we believe this product could help many types of businesses in supporting their COVID-19 containment strategies."

About Hughes Safety Showers
Established in 1968, Hughes specialises in custom emergency safety showers and eye/face wash units worldwide. Products are designed to operate across all industries and environments ensuring the safety of the workforce. Quality is our watchword, reflected in our certification to three of the most important man- agement standards: ISO 9001, 14001 and 45001.

About Justrite Safety Group
Justrite Safety Group is a growing family of leading industrial safety companies. Together we protect workers, workplaces and the environment with a comprehensive range of industrial safety solutions. We cover every facet of the industrial safety landscape—from the storage, containment and clean-up of hazardous materials to emergency showers, industrial matting, and motion safety. All Justrite Safety portfolio companies are united by deep safety knowledge, long experience, and a commitment to protecting people, property and the planet. Visit us at http://www.justrite.com to learn more.