How To Make Fork Lift Truck Drum Rotating Safer And Easier
There are many reasons why a business which buys its raw materials in drums, needs to rotate them – mixing ingredients or decanting contents into smaller containers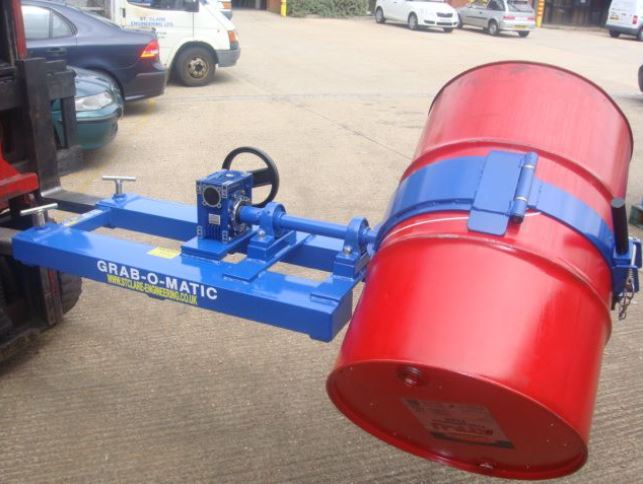 But in every instance, it should be done accurately and safely.

A Drum Rotator for each job

Rotating a drum can be difficult and hazardous because of size, weight and storage position, so picking the right equipment for the task is important.

That's why we've developed a range of drum rotator forklift attachment models which rotate drums in different planes. For example, the Grab-O-Matic SC10 rotates a drum backwards and forwards while with the SC10 Side Rotator the movement is left to right. We even have a Special Small Rotating Drum Cage which holds plastic containers hung from the hook of a crane hoist.

Our heavy-duty drum rotator will manage larger loads and our overhead drum rotator is for use with crane hooks or slung from the forks of a forklift truck. All of our drum rotator products can also be fitted on a pedestrian drum handler unit. You can see more details on our full range of drum rotators at https://tinyurl.com/ybthbfdw.

Safety first

Our drum rotator products are designed to give fork lift truck operators full control throughout the drum handling process to ensure safe operation and, depending on your needs, we can incorporate additional safety features, such as adaptors for tilting smooth-sided barrels.

Grab-O-Matic drum rotators can be bespoke manufactured to customer requirements and we're available to talk through specific needs with our customers.

St Clare Engineering and Grab-O-Matic

St Clare Engineering Ltd is a family business. We have been manufacturing a range of specialist, high-quality fork lift truck drum attachments under the Grab-O-Matic trade name since 1959, to lift, move and tilt drums of various shape, size and weight.

We supply drum handling equipment to the oil, chemical, logistics and engineering industries globally, from the Arctic Circle to the Arabian Gulf. All components are manufactured in the UK and every unit is fabricated, hand-assembled and inspected at our factory in Eastleigh, Hampshire.