Visit Intersurgical At The 40th International Symposium On Intensive Care And Emergency Medicine
Intersurgical are delighted to once again be exhibiting at ISICEM in Brussels from 24-27 March on stand 2.04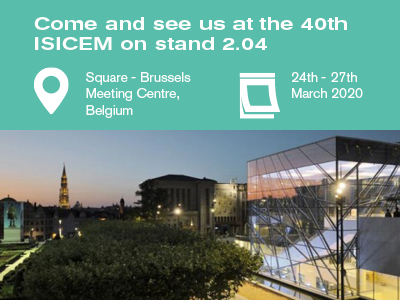 We will be showing our comprehensive respiratory product range for Critical Care and Emergency Medicine.

We will be featuring our range of patient interfaces designed for non-invasive ventilation (NIV), breathing systems for adults, paediatrics and neonates, Oral Care range, Trachseal™ closed suction systems along with our extensive accessories range.

VariFit™ is a single patient use hospital NIV mask featuring a cushion with AIRºgel® technology for enhanced patient comfort. Colour coded elbows help the clinician to choose the correct mask for bilevel/CPAP using a single limb breathing system or non-invasive ventilation using a dual limb breathing system. The breathable, quick release headgear is designed to fit easily to the patient and improve patient comfort.

MiniMe®2 is a single-patient use paediatric nasal NIV mask for use in the hospital or homecare environment. MiniMe®2 is available in two sizes, both with vented and non-vented options for CPAP and bilevel therapy. Designed for children ages 2-12, the MiniMe®2 mask features AIRºgel® with Advanced Cushion Technology™, providing your smallest patients the ultimate fit and maximum comfort.

FaceFit™ is a range of lightweight and comfortable masks for use in non-invasive ventilation (NIV). Two options are available, the FaceFit NIV sealed mask for conventional ventilation and the FaceFit NIV mask with port for bilevel and CPAP applications.

The StarMed range of products incorporates a range of hoods and masks for CPAP therapy and hoods for non-invasive mechanical ventilation (NIV). They have been designed to offer an alternative to traditional interfaces, and are well tolerated for extended periods and can reduce the risks associated with both endotracheal intubation and face mask use.

Oral Care toothbrushes and day kits, form a vital part of an oral care protocol for the prevention of ventilator associated pneumonia (VAP).

TrachSeal™ closed suction systems are designed to greatly reduce the potential for contamination from the bacteria that cause VAP. Featuring an ultra-clear soft sleeve and numerous other features, TrachSeal is available for 24- or 72-hour usage.

We look forward to showing you our patient solutions for on stand 2.04 from 24-27 March.