Processing High Quality Food Ingredients With Industrial Sifters From Russell Finex
Compact vibratory screener increases output rates in wide range food ingredient manufacturing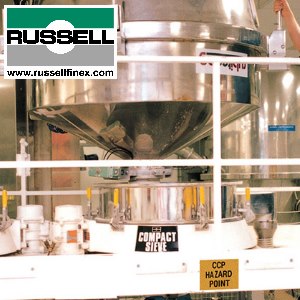 Farbest Brands is a food ingredient supplier to many manufacturers for everything from proteins and vitamins to sweeteners, preservatives and specialty products. The company's custom manufacturing services include specialized dry blending, particle sizing and sifting, and sophisticated liquid blending capabilities.

To meet the demands of its customers, Farbest imports ingredients from all over the world for distribution or further manufacturing in its own plant in Columbus, Ohio. The ingredients they produce must not only be of the highest quality, but also designed to mix, blend or liquefy according to specifications that meet a customer's own production and quality standards. This means choosing the right fine mesh separators to efficiently screen food powders and liquid slurries to ensure final product quality.

"When it comes to flat screening, we need to move large volumes of material through rooms with limited space," explains Dennis Cowles, Farbest Maintenance Manager. "It is important to have vibrating screeners that are not too large, not easily damaged and easy to clean." While those requirements may seem simple enough, they are not always easy to achieve. Some equipment designs are more prone to occasional breakdowns such as screen tearing during high-volume operations.

To avoid these problems, Farbest Brands invested in a high-capacity, 36" vibratory sieve from Russell Finex. The unique Russell Compact Sieve® is a breakthrough improvement over conventional screeners whenever headroom or room size are issues. Screening is a primary operation for ingredient manufacturers like Farbest.

"We use a certain size of screen to prevent agglomeration of product, so that it mixes well with other products, and doesn't ball up," says Dennis Cowles, Farbest Maintenance Manager. "We often screen material before is goes into a mixer, for example. We don't want any particles that are greater than a certain size so that we're sure it will work for our customers when they make the end product." Durability was also a requirement in Cowles decision. "These screeners use wire mesh screens, so we don't have to worry about the screens tearing or pulling loose as with those made of nylon," says Cowles.

Cowles adds that while some screeners have commercial hardware such as nuts and springs exposed to the material being screened, the Russell unit does not, thereby eliminating the risk of hardware vibrating loose and entering the product stream.

See the extended article at: https://www.russellfinex.com/en/case-studies/screening-food-powders-and-liquid-slurries-at-farbest-brands

Russell Finex has over 85 years of experience manufacturing and supplying separators, screeners and filters to enhance productivity and ensure product quality. The company serves a variety of industries in over 100 countries with applications that include adhesives, ceramics, chemicals, colors, enamels, food, inks, latex, metal powders, paint, paper coatings, pharmaceuticals, plastisols, powder coating, and waste oils.