Fine Tubes Currently Seeking Product Manager Who Will Be Responsible For Commercial Strategy And Deployment
Responsibility for commercial strategy and deployment and will have accountability for pricing, proposals and contract review. Emphasis will be on the Aerospace, Medical and Nuclear markets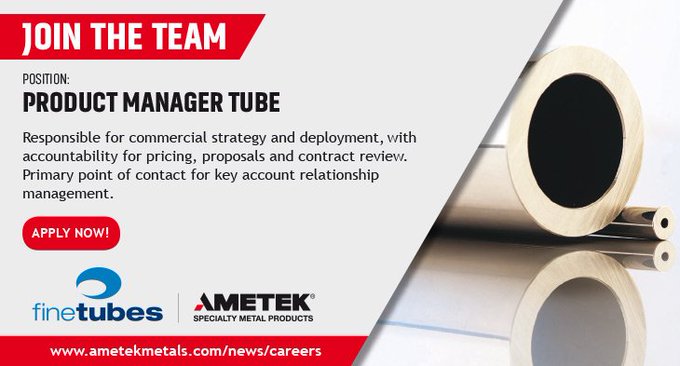 AMETEK, Inc. is a leading global manufacturer of electronic instruments and electromechanical devices with annual sales of approximately $5B. AMETEK is well positioned in highly competitive market segments, each with compelling growth characteristics.

We expect continued business growth through the execution of our four key strategies: Operational Excellence, Strategic Acquisitions, New Products, and Global & Market Expansion. Supporting those strategies are 18,000 associates employed across 30 countries.

At AMETEK, we are committed to a corporate culture that values diversity and fosters a work environment that enables colleagues to develop meaningful and rewarding careers. We consider ourselves responsible corporate citizens and are committed to operating our facilities in an environmentally responsible manner.

We also are sensitive to the needs of our communities, and, as a company, support programs that help those communities meet their health, education and social needs.

AMETEK is publicly traded on the New York Stock Exchange (NYSE: AME) and a component of the S&P 500.This role is based in Plymouth, UK at Fine Tubes Limited, which is part of AMETEK's Specialty Metal Products division.

We manufacture high quality precision metal tubes for demanding technical applications in Aerospace, Nuclear, Energy, Medical, Oil and Gas and High-Performance industries.

See https://tinyurl.com/yy4pwf4k for full job profile.