Stute Foods An International Food And Drink Supplier Is Celebrating Its 50th Anniversary This Year
The Bristol firm was founded by Dennis Hybs in 1969 and began life in a small office in Central Bristol with just a handful of customers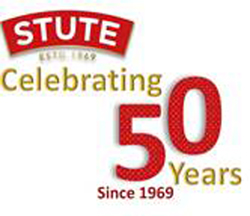 The company now supplies all major sectors in the UK and over 50 countries around the world. Stute has continued to invest in new product development and currently offers 30 different SKUs with new lines planned for launch later this summer.

The company has remained 100% family owned since its inception and Laurence Hybs, son of Dennis, has been Managing Director for the past 22 years.

Laurence said: "This is such an incredibly proud moment for our business and a fantastic milestone to reflect on. The continued success of the business can be attributed to our commitment to only offer great quality products along with a fantastic team that enables us to provide first-class service to our customers.

We have an exciting future ahead of us as we diversify our product range and develop new ways to remain competitive in the ever-changing food and drink landscape".