Sifting Bakery Ingredients At Warbutons With Russell Finex
Family baker, Warbutons installs the Russell Compact 3in1 Sieve to protect the quality of their raw ingredients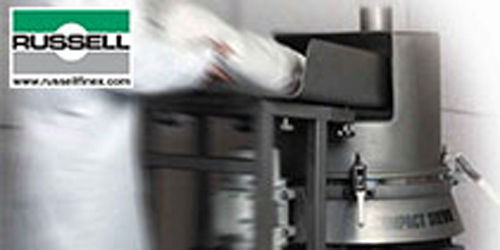 Warburtons, the family baker, has improved process efficiency in a number of its bakeries following the installation of the Russell Compact 3in1 Sieve™. Taking every reasonable precaution to ensure that they fulfil HACCP requirements, Warburtons replaced older systems, which did not provide dust extraction or bag rest tables with the Russell check screening sieves.

The Russell Compact 3in1 Sieve™ is used to remove contamination from hand fed raw ingredients. The sack-tipping platform can be set at a comfortable height for operators to support the height of the bag. The dust hood reduces dust during sieving, eliminating the need for flexibles and therefore increasing hygiene efficiency. Seated underneath the mesh is a magnetic trap to catch ferrous particles, which are smaller than the mesh size, thus complying with provisions of the food and safety Act 1990.

Russell Finex are global leaders in sieving and filtration equipment, servicing many industries including food and beverages, pharmaceuticals, chemicals, coatings, ceramics, metal powders, water processing and recycling. Contact Russell Finex today to find out how their innovative sieving technology can improve your bakery processing lines.