Hot Stamping Process In UK Manufacturing
Flowflex have manufactured Compression Fittings in the UK for over 60 years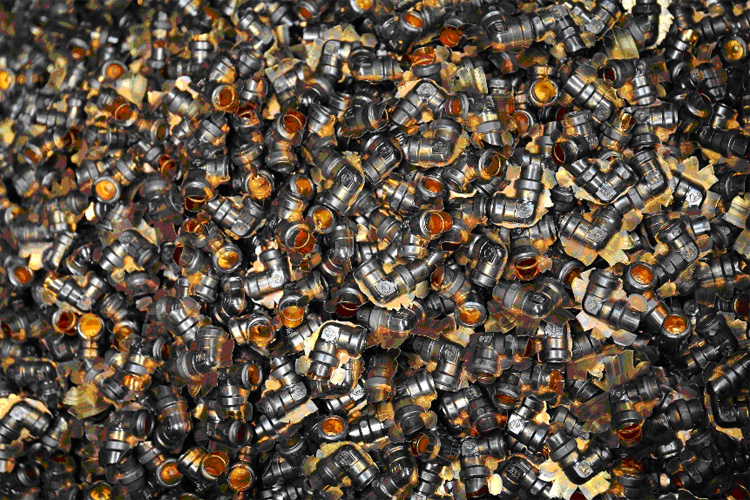 The following outlines the Hot Stamping Manufacturing process which takes the raw material to the machined component.

Firstly, the raw material arrives at our site in Buxton Derbyshire and it quality checked before loaded on to racking. Brass Rod remains on the racking until it begins the manufacturing process. Rods are then loaded onto Sala saws which cut the rods into billets, which are lengths of rod at the correct weight.

Billets are then fed into the press dies, sprayed and heated, before they are stamped with 200t of force forming the shape of the component. After this stage the component is cooled and transferred to the Porta clipper which removes the flash. Components begin to look like a finished product as they are blasted with swarf through the Hunzike shot blast. This cleans the fittings and gives a brighter finish before machining.

Stampings are then transferred to the machining section and are processed on the relative machine, depending on what fitting is manufactured. At Flowflex, machines included BTB, Riello, Buffoli & Porta.

Robots feed stampings into to the relative transfer machine where the stamping is machined into a component. All machined fittings have regular quality checks with gauges and measuring equipment.

Machined components are then washed in a Triton tunnel wash, weighed off and a final quality check takes place. Following the wash components are transferred to the warehouse for assembly.

Compression fittings are assembled with a nut and olive, which once tightened creates a water tight seal. Once assembled fittings are bagged and are on the shelf ready for dispatch.

Come and see the Factory in action!

Flowflex operate regular factory tours which provide the chance to see their facilities and manufacturing process. Tours are run for groups of 10 and include lunch and a drink. Contact hello@flowflex.com to find out more and sign up to the next tour.