Paxman Join UK Texas Partnership Set To Drive Life Sciences Innovation
Yorkshire scalp cooling expert PAXMAN is spearheading a new UK-Texas life sciences trade deal that the government says will provide direct access to the largest medical complex in the world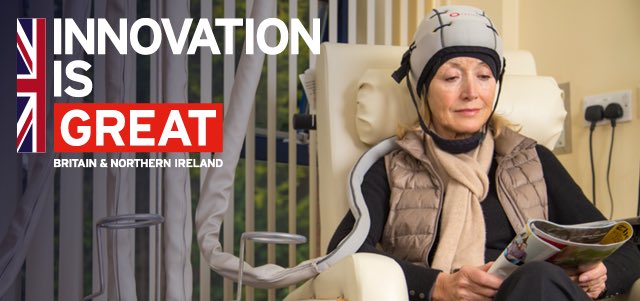 The UK's life sciences industry is set for a major boost today as the Department for International Trade (DIT) agreed a landmark 'BioBridge' collaboration with the world's largest medical complex.

The Texas Medical Center (TMC), home to 61 world leading medical institutions, including the US' leading cancer hospital, will now offer UK companies a unique package which will help boost exports and drive forward scientific innovation.

British life sciences businesses will now be able to locate themselves at the TMC in Houston, where they will have access to a network of advisors, investors and medical experts from both the Center and DIT.

The partnership will allow for a significant research collaboration on a wide range of medical issues, including the development and advancement of Genomics and Cancer treatments.

Three UK companies have already made use of the BioBridge:

• Paxman Scalp Cooling A company which specialises in cooling therapies to help breast cancer patients undergoing chemotherapy, have set up a subsidiary in Houston gaining traction due the entrepreneurial attitude of CEO, Richard Paxman.

• SurePulse Medical and FirstKind Limited Both companies are in the initial stages of engagement with TMC ahead of major presentations to hundreds of investors, industry leaders and hospitals at 'Demonstration Days' in Texas.

Speaking at an event to celebrate the launch, Minister of State for the Department for International Trade, Baroness Fairhead, said:

"The UK is a world leader in healthcare innovation, and this partnership is clear evidence of the opportunities that exist for our companies in exciting markets such as the US.

"Our recently launched Export Strategy will help even more British life sciences companies to reach new markets - bringing together some of the brightest minds in science to advance the availability of innovative healthcare across the globe."

The collaboration is also a step forward for the TMC's research programme as they look to harness the UK's world-renowned research and development capability.

Healthcare trusts in Leeds, Cambridge and Manchester are in talks with institutions based at the Houston site and will now look to formalise partnerships.