Stute Foods Is Among The Great Taste Winners Of 2018
Great Taste, the world's most coveted food awards, which celebrates the very best in food and drink, has announced the Great Taste stars of 2018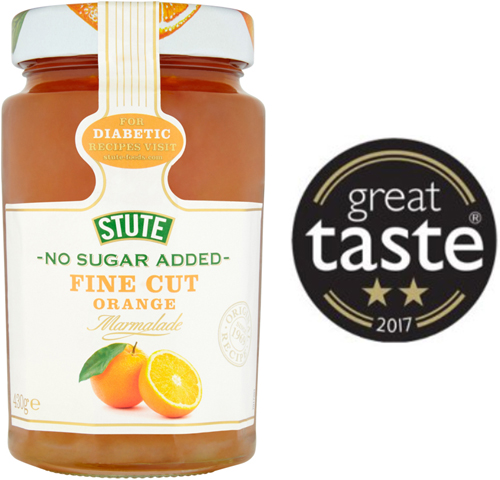 Out of over 12,600 products to be judged, Stute Foods was awarded a 2-star Great Taste award for its No Sugar Added Morello Cherry Extra Jam and a 1-star Great Taste Award for its No Sugar Added Blackcurrant Extra Jam.

Judged by over 500 of the most demanding palates, belonging to food critics, chefs, cooks, restaurateurs and producers, as well as a whole host of food writers and journalists, Great Taste is widely acknowledged as the most respected food accreditation scheme for artisan and speciality food producers.

As well as a badge of honour, the unmistakeable black and gold Great Taste label is a signpost to a wonderful tasting product, which has been discovered through hours and hours of blind-tasting by hundreds of judges.

Laurence Hybs, Managing Director explains: "Since having won our first award last year, which was a 2-star Great Taste Award for our No Sugar Added Fine Cut Orange Marmalade, we were keen to enter 2 further products in the 2018 awards and we are very pleased to have won stars for both entries. This success highlights the great quality products we produce, especially when you consider the fact our jams contain no added sugar."