AMETEK SMP Eighty Four Gears Up For Growth In Demand From Indian Automotive Industry
Most of the world's major car manufacturers now have operations in India. The automotive sector overall is a significant contributor to the country's economy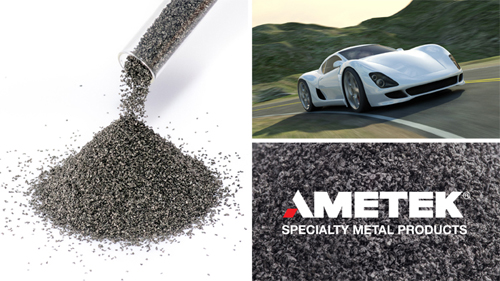 However, the industry is having to prepare for the introduction of stricter emissions regulations, in line with the United States and Europe. To meet these higher standards, all vehicles will need in the future to be fitted with stainless steel exhaust systems.

AMETEK SMP Eighty Four, one of the world's primary producers of the speciality water atomized powders used to manufacture such systems, has been gearing up for the anticipated growth in demand for stainless steel by investing substantially in the country.

Based in Pennsylvania, and a unit of the AMETEK Specialty Metal Products, AMETEK Eighty Four is a global leader in the design, development and production of both water atomized powders and roll bonded clad metal products. Water atomized powders are used in a variety of applications in which corrosion, wear/abrasion, magnetic properties, permeability or high temperatures are a concern.

Eighty Four produces structural powders typically used in a variety of solid-state compaction technologies, including press and sinter, CIP (cold isostatic press), HIP (hot isostatic press) and roll compaction. Other powder metallurgical (P/M) technologies include MIM (metal injection molding) and MAM (metal additive manufacturing) in which water atomized structural powders are used due to their morphology and physical properties.

For the automotive industry, the main stainless steel alloy powders used are 409L and 434L as well as 304L and 316L.

The key reasons for using 400 Series stainless steel atomized powders to make automotive components are good atmospheric and saline corrosion resistance, hot oxidation resistance, and elevated temperature yield strength, at the most economical cost. Those components include exhaust flanges and exhaust support brackets as well as rear-view mirror mounts, sensor rings, and seals. 409 is a ferritic, weldable grade of stainless steel offering high compressibility, enhanced green strength and good sinterability, while 434 is a low carbon stainless steel used in mildly corrosive environments.

300 Series powders are austenitic stainless steels typically used for powdered metallurgy (P/M) press and sinter applications to make near net shape parts for a variety of applications. 304L is a corrosion-resistant material that exhibits good property stability below 1000 degrees F, making it a good choice for parts that will not be subjected to demanding machining operations. 316L offers the highest degree of corrosion protection available in standard stainless steel grades, providing very good strength at extremely high temperatures.

The major advantage of press and sinter applications for the automotive industry, typically a replacement technology for stamping or machining, is a reduction in material costs. Because the process enables working to net shape, there is little of the scrap material that is associated with more traditional methods.

AMETEK SMP Eighty Four was founded in 1963 on the principles of excellence in applied metallurgical research and development. Consistent adherence to its founding goals has enabled the company to offer its customers a flexible range of technical options and R&D partnerships to meet the most demanding product requirements, utilizing the latest technologies in alloy production, chemistry control and alloy powder sizing and classifying as well as bonding for its clad metal products.

In addition to serving the world's automotive industry, Eighty Four is a preferred supplier for stainless steel and high-nickel alloy products for use in a number of other sectors, including traditional and alternate energy markets in which water atomized powders in the form of NiAl and NiCr support fuel cell applications and hardfacing alloys such as PF 50 and PF 60, are used as wear coatings. For the oil & gas industry, specialty powders are used to produce hardfacing alloys, which can be blended with tungsten carbide to produce effective wear coatings for downhole equipment.