60000psi High Performance Tubes At The Offshore Technology Conference
Fine Tubes will be exhibiting its range of high quality tubes for demanding oil and gas extraction applications in Booth 461 at the Offshore Technology Conference (OTC) from 30th April to 3rd May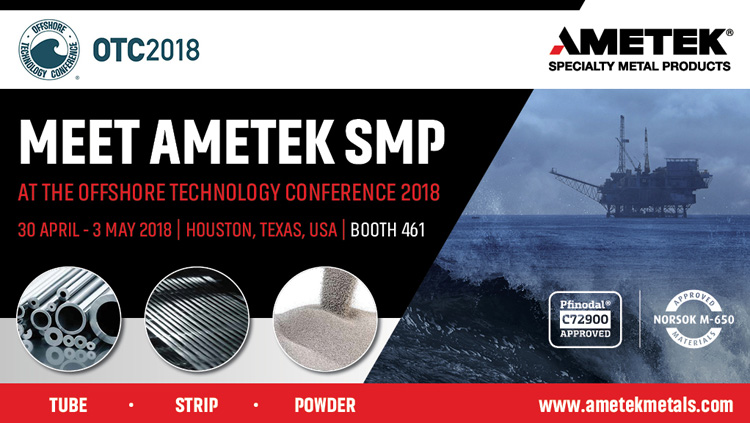 OTC is the world's foremost event for the development of offshore resources and his will be the 50th edition which is set to attract over 70,000 industry professionals.

The tubing experts will showcase their unique portfolio of high performance tubes for critical oil and gas applications that demand high pressure, temperature and maximum corrosion resistance. With the engineering expertise to develop tubes rate rated up to 60,000psi operating pressure, the Fine Tubes product offers excellent service life, reduce downtime and maintenance costs in extreme environments.

Fine Tubes will be exhibiting as part of AMETEK Specialty Metal Products (SMP) which has a proven record of meeting the most exacting demands of the oil and gas industry. Specific applications include:

• Stainless steel, titanium and nickel alloy tubes for downhole hydraulic control and injection lines and downhole MDW/LWD pressure housing
• Pfinodal® strip for shape charges in big hole perforations, Pfinodal® CuNiSn washers & bearings, Cobalt strip for re-facing valve seats
• Atomized hardfacing metal powders for HVOF, HVAF, PTA, cold spray and laser cladding

With increasing market activity and rig count, OTC offers an excellent platform for Fine Tubes to present its advanced alloy tubes engineered to perform without failure in most hostile sour well, subsea or downhole marine environments.

The AMETEK SMP businesses that will be exhibiting at OTC include Superior Tube, Fine Tubes, AMETEK SMP Eighty Four and AMETEK SMP Wallingford.