Diamondbrite Applied To Vehicle Paintwork Gives High Gloss Protective Invisible Layer
Jewelultra products are manufactured in the UK, in Loughborough in the heart of England. From here they are filled, packed and shipped all over the globe from Asia to America and everywhere in between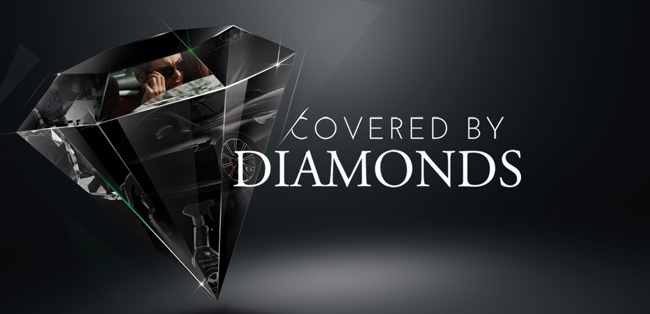 The company was originally founded by John Boseley under the name Lacroe in 1974. Lacroe produced high quality car care products which were developed and tested in Sweden to deal with the harsh Scandinavian climate. John is still to this day Jewelultra's MD and remains passionate about making quality products with unrivalled customer service. John built the company up to be a major supplier of Car Care Products in the UK and around the world in the 70's and 80's. The company built an enviable reputation in supplying own branded products to car manufacturers including VW Group, Nissan, Toyota, Volvo, Citroen, Peugeot and BMW.

In the 1980's Lacroe's chemists developed Diamondbrite which was a 2 stage process which once applied to vehicle paintwork gave a high gloss protective invisible layer. After extensive testing it was found that this layer gave enhanced protection from Bird Droppings, Tree Sap, Insect Marks, Traffic Film and the Suns UV Rays. In fact they were so confident in the products qualities that they gave it a 6 year Guarantee.

In 1992 the company was relaunched under the name Jewelultra, with John Boseley still the MD. At about that time regulations were being introduced which meant that car manufacturers had to reduce the amount of lead that was in car paint. This was of course for environmental reasons, and meant that whilst it was better for the planet the paint became thinner and more prone to fading and wear and tear. Diamondbrite was the ideal product to give that additional protection and as a result the company grew steadily over the next 20 or so years and now Diamondbrite is a household name in Paint Protection. In addition the product has been continually developed and improved to keep up with new paint technologies and a harsher polluting environment. Jewelultra are now so confident in the quality of Diamondbrite Paint and Fabric Protection that the product now comes with a lifetime Guarantee in the UK.

In 2008 Jewelultra purchased the company that manufactured the products for them so became a manufacturer rather than just a marketing company. Jewelultra now manufacture over 100 products for the Car, Caravan, Marine and Motorcycle market, as well as making a huge range of bulk chemicals. One of the benefits of being a manufacturer is that we can make virtually any chemical to the customers own specification.

The company is now a wholly owned UK company and is a global supplier of Automotive, Marine, Leisure, Motorcycle, Aviation and Valeting Chemicals and is truly a family business with one of John's sons and grandson involved in the business.