Effective Measurement Of Capnography
Pioneering technology showcased at ASA offers clinicians an answer to detecting hypoxia early on in patients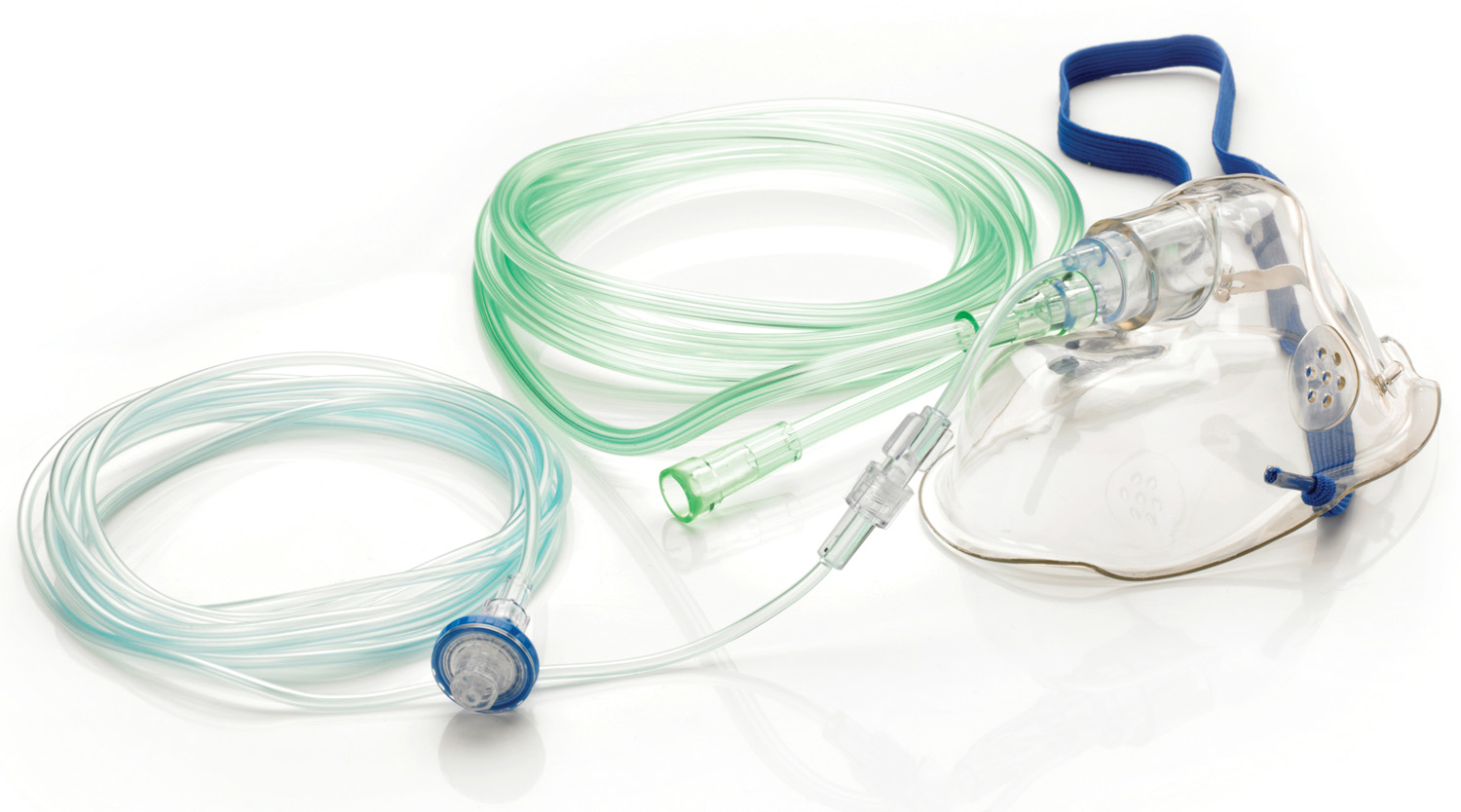 Mediplus CapnomaskA pioneering medium concentration oxygen mask that helps detect early stages of hypoxia will be unveiled at the American Society of Anesthetists Anesthesiology (ASA) meeting.

The Capnomask™ has been designed to measure CO2 via its unique double connector located below the nose of the patient. This unique connector offers enhanced and more accurate readings, and an integral filter reduces risk of cross contamination. The mask material is impregnated with a calming vanilla scent to help with post operative nausea and vomiting.

The American Society of Anesthiologists (ASA) set standards for Basic Anesthetic Monitoring that should apply to all anesthesia care**.

"During all anesthetics, the patient's oxygenation, ventilation, circulation and temperature shall be continually evaluated".

"During moderate or deep sedation the adequacy of ventilation shall be evaluated by continual observation of qualitative clinical signs and monitoring for the presence of exhaled carbon dioxide".

The Capnomask™ Features:

• Soft transparent DEHP free PVC for comfort
• Ophthalmic version available
• Pediatric version available
• Nose clip and elastic straps for easy adjustment
• Unique front dual connector with both O2 line and CO2 monitor line pre-attached for speedy hook up
• 0.22 micron filter to reduce risk of cross contamination and infection
• Vanilla scented to help reduce nausea and vomiting
• Capnomask™ is not manufactured with any neutral latex material

Judith Cumming, Critical Care Product Manager of Mediplus said "Patient Safety is the number one goal for procedural sedation, and ventilation monitoring is an important step in its achievement. Studies have confirmed that CO2 monitoring improves airway management and allows for earlier detection and reaction to hypoventilation.

The American Society of Anesthesiologists also advocate that, "the adequacy of ventilation should be evaluated by continual observation of qualitative clinical signs and monitoring for the presence of exhaled carbon dioxide," during both moderate and sleep sedation.

With its unique 'double connector', the Capnomask™ offers enhanced readings and accuracy of ETCO2. Clinicians who have used it in the US say the quality of the mask for the value is superior and that the unique vanilla scent helps patients from feeling nausea from the common plastic smell."

Based in the UK, Mediplus have been supplying the healthcare sector with innovative patient centric products for 30 years. The company, who specialize in Urology and Anesthesia products, will work with a growing number of specialist distributors to launch the Capnomask™ across the US.

To find out more visit Mediplus at the Anesthesiology Meeting (booth 3645) at the Boston Convention and Exhibition Center.