Morris Site Machinery Flying The Flag Down Under
Leading British manufacturer Morris Site Machinery continues to cement its international relationship with Australia's largest equipment hire company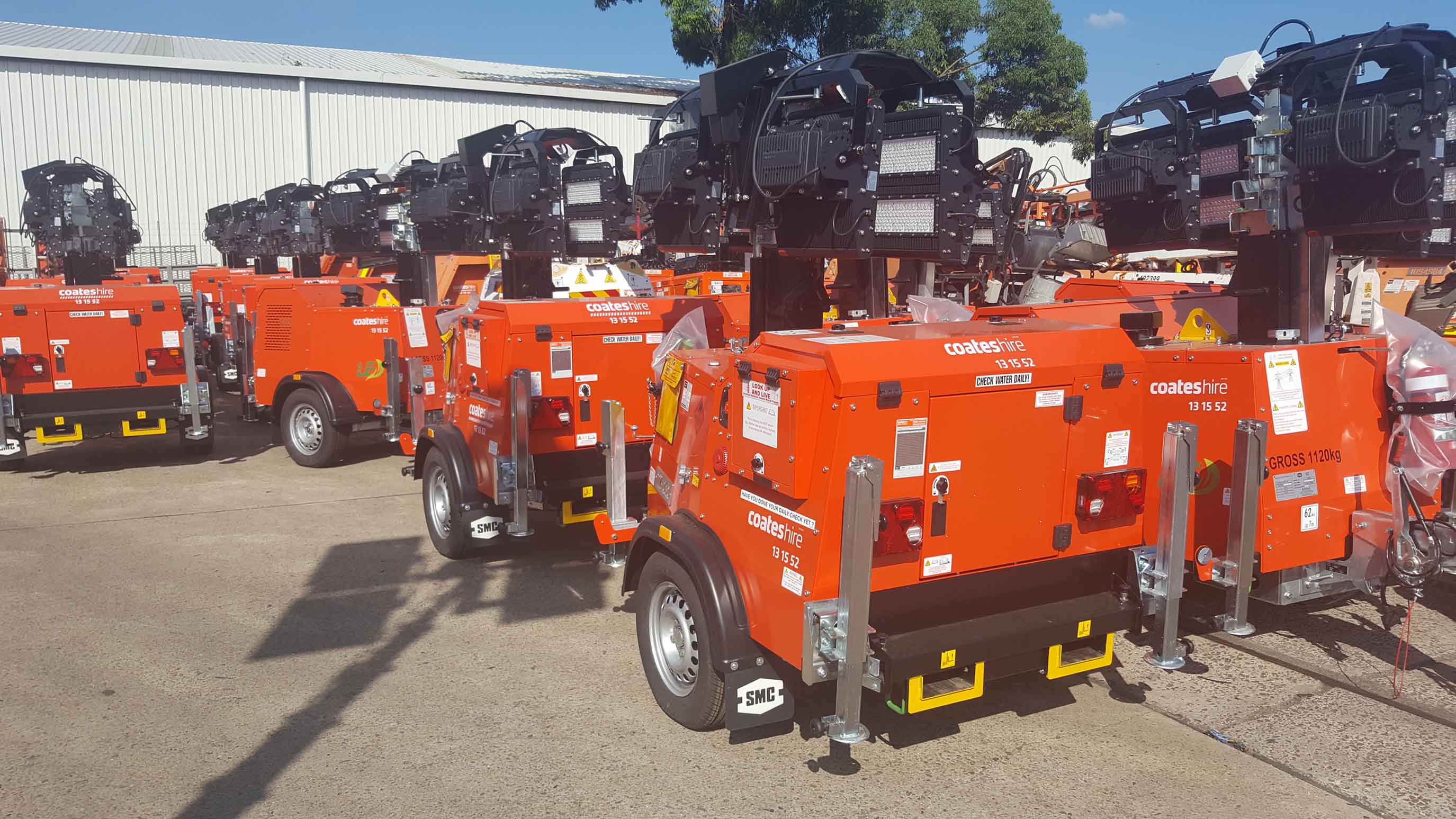 Coates recently placed an order for 50 more of its extra low voltage, DC LED SMC lighting towers.

The new business comes hot on the heels of the company being recognised for its export achievements by The Sunday Times in its annual International Track 200 listing, where Morris were ranked 166.

Working with partner Allight Sykes, Morris Site Machinery will provide SMC TL90 LED ELV lighting towers to Coates Hire, taking its fleet of TL90s to over 450-strong Morris machines.

The company has an established heritage with its bespoke towers which have proven ideal for the demands of the territory, temperature and terrain down under. The ELV model was designed specifically to comply with Australia's stringent health and safety regulations including lowering the voltage to only 48Volts.

Phil Winnington, International Business Director at Morris Site Machinery said: "This latest order is testament to strong partnership working with our partner Allight Sykes in Australia. Coates Hire is a major player in the Australian hire sector and this latest order underlines how our British designed and built
TL90 lighting towers have the exact credentials to meet market demands.

"The Australian market has developed in the 12 years since the SMC brand was introduced. Rental companies and hirers have recognised the value and reliability of our products and we have built on this reputation by continually improving and providing enhanced features and end user benefits.

"We are proud to work alongside customers like Coates to identify exactly what their particular needs are as renters, as well as the requirements for their end users."

The SMC TL90 LED ELV is one of the most efficient extra low voltage lighting towers on the market. Compact and easy to transport, it is super silent and offers up to 165 hours of uninterrupted operation.

Its four 300W powerful DC LED lamp heads give directional, clear and crisp light with a spread of up to 100 metres complete with Power Tilt. Its advanced safety features include automatic mast descent when the handbrake is released, central lifting eye, fork pockets and accessible lashing down points for ease of loading at ground level and extinguishers.

The latest towers ordered for Coates are expected to be used on road, rail and metro projects.

Morris Site Machinery has grown its international sales footprint with a range of first class products which deliver in all temperatures and terrains. Australia is its number one export market for volume of sales.

Phil Winnington added: "In a competitive marketplace we will succeed by delivering great products - innovative and bespoke solutions for our customers. We know the importance of taking time to build lasting relationships with Hire customers and partners, an integral part of our export strategy."

Morris Site Machinery is part of a fifth-generation family business with four depots and service hubs across the UK supplying its quality site machinery products to the hire industry for a range of sectors from construction to events.

In more than ten years of exporting, the company has sold its industry leading site machinery brands and products, including SMC lighting towers and generators, Hilta pumps and pressure washers and a selection of welders, into 25 countries worldwide.