New Pump Hits Spot For Viscous Products At High Temperatures
Finding that happy medium between a pump that can handle high temperatures but also handle highly viscous products appears to have taken a distinct turn for the better in the world of pump evolution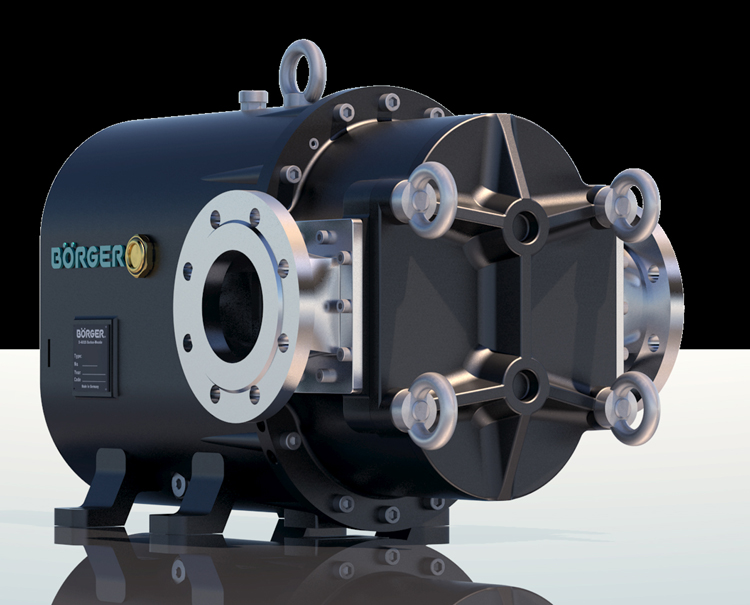 As those, for example, in the coatings industry will know all too well, seal-less Magnetic (Mag) drive pumps are suitable for high temperatures and prevent any leakage of fluid, which is clearly important when dealing with chemicals and corrosive liquids. With their simple design, Mag pumps are considered 'reliable' and 'low maintenance', but when trying to deal with viscous fluids, this isn't the case at all. Magnetic drive pumps are also far more expensive than mechanical seal pumps.

You also won't have to look too far to find a manufacturer of Twin Screw Pumps describe them as 'durable and low on maintenance'. True for durable, and for handling highly viscous products, true again, but a totally different story if it's a liquid that contains some solid particles. Less of a story and more of a nightmare with arduous and very expensive maintenance bills on top of a hefty purchase price.

It's also true that the seal is the weak point in standard Mechanical Seal pumps, which can lead to potentially dangerous leakage, but as David Brown from Borger Pumps explains, compared to magnetic drive pumps, there is far more scope for applications with viscous liquids.

"Until now this has been a judgement call, with pump users stuck trying to find a pump that can withstand high temperatures but also handle those fluids with high viscosity. Whilst Magnetic pumps can do a great job in certain applications, I don't buy the argument that they're somehow automatically better on maintenance because as soon as a non-clean liquid comes along, problems or an excessive need for maintenance soon develop".

Brown believes that a good quality positive displacement pump is the way forward and that with the launch of a new high pressure pump, designed with flow-simulation software, the needs of numerous industrial sector applications can now be catered for.

'No Wearing Parts'

Available with interchangeable cartridge seals to suit a customer's requirements and seal plans, ONIXline can handle demanding high pressures up to 16 bar and has no wearing parts. It benefits from superior rotors that promote maximum energy efficiency through gentle, almost pulsation-free pumping.
An example of the benefits it can bring has been seen just recently at a manufacturer of plant protection products, which uses the pump for conveying medium with a viscosity of up to 150,000 mPas.

'Simple Tools'

David Brown continued: "Here, the duplex stainless steel pump removes the 'melt' being formed in a thin-film evaporator and pumps it to a disperser. Previously, a rotary lobe pump from another manufacturer had persistent sealing problems, but with ONIXline this is no longer an issue. Maintenance work was also very complex and cost-intensive, but now with Maintenance-In-Place (MIP) designed in, routine servicing is much, much easier, with simple tools and very little downtime compared to other pumps".

For this plant protection application, stainless steel rotors are utilised for the highly viscous media. There is a low pulsation and a speed of just 20 rpm. The medium has a temperature of up to 140 °C and must not cool down during the pumping process. For this reason, a heater cover is installed on the pump, which heats the pump chamber to maintain a constantly high temperature of the medium.

"In addition to its Maintenance-In-Place, ONYXline also has a very small footprint and can be mounted in any plane", added Brown. "We've also been working with an oil mill that has installed an ONIXline rotary lobe pump for conveying a mixture of lecithin, water and very abrasive bleaching earth".

Brown explained that Lecithin is extracted from raw vegetable oil in a degumming process by a separator. The (up to) 90 °C hot lecithin mixture is then transported to a storage tank from where the Borger ONIXline pump conveys the mixture (with a viscosity of up to 5,000 mPas) into a 35m high tank. During the process, a pump pressure of approximately 10 bar is created. Animal feed is produced in the tank. For this purpose, the oil mill uses the lecithin-enriched press cake which has been separated from the rapeseed. Variable amounts of the lecithin mixture have to be added, depending on the liquid content of the press cake. The pump is driven by a frequency converter so that the speed and flow rate can be varied and adapted to the liquid content of the animal feed.

David Brown concluded: "Perhaps one of the best examples of how high viscosity and high temperatures can be successfully handled has been at the leading kitchen sink manufacturer, Carron Phoenix. Our bespoke solution saw ATEX-approved pumps designed with special pressurized intermediate chambers and numerous intricate features. This is an extremely demanding application that uses resin in the manufacture of high quality granite sinks.

"This installation shows that the happy medium for high temperatures and highly viscous products is now possible – with lower capital and ongoing maintenance costs".