Precise And Efficient Cooling With Barn Owl Wireless
Fully automatic crop cooling, wireless monitoring from anywhere in the world and the ability to cut down energy bills by up to 40%, puts Barn Owl Wireless at the top of every farmer's wish list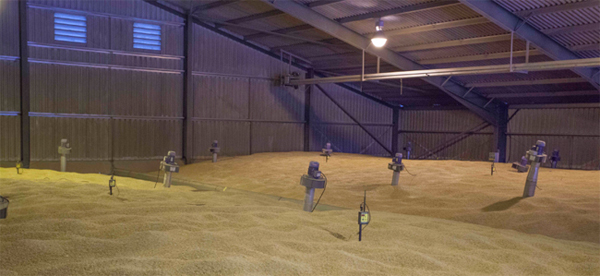 Designed with precision and efficiency in mind, Barn Owl Wireless can significantly reduce the time taken to cool grain and reduce the energy cost of store management, whilst ensuring that stored crops remain in optimum condition. Installed in flat floor stores, drying floors, silo or bin complexes, the system has also been installed in potato stores and been used in compost production and woodchip storage.

Wireless temperature sensors placed in grain silos or flat floor stores link seamlessly to a wireless gateway which relays information about the store through the mobile phone network to a cloud-based server. Store managers can then log on to the Barn Owl Wireless web page and check temperature and humidity readings for all their stores, wherever they are located in the world, and manage the fans in each store according to the data shown on screen. Fans can either be switched on or off, or re-configured to the temperature thresholds at which they turn themselves on or off automatically all through the Barn Owl Data website.

The Barn Owl Wireless web page can be accessed on almost any internet browser enabled device. The data received is stored and collated with all previously received data and displayed either graphically or in downloadable tables, which can act as supporting evidence of grain storage history when dealing with grain merchants and quality assurance assessors.

The system cools when it is most efficient to do so, turning on the fans when the temperature threshold between the grain and ambient air is at an optimum level. This combined with the precision of zonal cooling, enables the system to only cool the sections of the crop store that require it. The result is significantly reduced energy costs over conventional cooling methods; Steven Horn from G Horn & Sons noticed this when using his Barn Owl Wireless system. "We have saved approximately 30-40% on our costs for crop cooling since Barn Owl Wireless was installed. The speed with which our crop temperatures have fallen, even with the very mild autumn we have had, surprised us greatly".

A live Barn Owl Wireless demo system will be on display on the Martin Lishman stand at this year's Cereals (stand 1026).