Spearhead Stubble Master Takes Centre Stage At LAMMA 2017
Spearhead Machinery reported yet another strong event from LAMMA 2017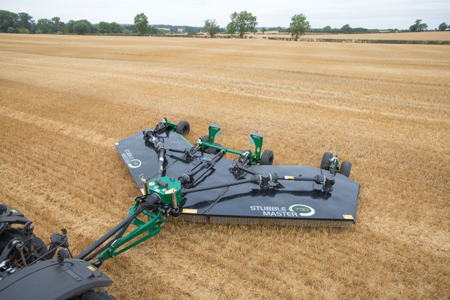 From their central vantage point inside Hall 1, the Spearhead stand attracted a high number of visitors that had moved inside, taking respite from the January chill to take a look at the innovative products from their Rotary Mowers and Reach Arm ranges.

Taking centre stage was be the formidable STUBBLE MASTER Rotary Mulcher, the largest of Spearhead's rotary products which has been proven to have a positive effect on cropping and cost efficiencies of the harvest process, as part of the crop stubble management process.

STUBBLE MASTER ROTARY MULCHERS
The latest generation of STUBBLE MASTER Rotary Mulchers are built on an award winning heritage and deliver exceptional quality, performance and durability to professional vegetation control markets worldwide.

Available in working widths from 5.0 metres up to 12.1 metres, the STUBBLE MASTER is specified with a number of standard features including gearbox and slip clutch protection, simple-to-use cutting height controls, walking and wide centre axles to give better weight distribution, a flat deck to avoid debris build up, and hydraulic wing lifts for easy transportation to and from the working area.

HD6 BLADE SYSTEM
Also available as standard on the STUBBLE MASTER range is Spearhead's renowned HD6 cutting system.

The HD6 system has been tested and proven to provide a superior cut on all types of stubble and is supplied with two types of blades – three high-lift and three flat – to give a fine chop and even distribution of crop stubble residue, encouraging faster decomposition and further underlining Spearhead's legendary cutting capacity and quality finish throughout its range of rotary products.

ALL-NEW FEATURES
To further increase the appeal, the next generation of STUBBLE MASTER now comes with a number of new additional enhancements to further substantiate the premium quality specification of this product, including;
• Strengthened hinge connections between decks
• Improved rear axle pivot points
• Larger and more robust wheels and tyres
• Simplified hydraulic system
• Improved operator set-up and safety decals

TWIGA REACH ARMS
Adding additional reach to their vegetation management display, Spearhead also showcased a selection of the ever-popular TWIGA Reach Arms from the CLASSIC and MID ranges, highlighting their continued commitment to verge and hedge trimming in both the agricultural and professional sector.

Pairing up with the TWIGA Reach Arms were a full range of flail heads and attachments to ensure that the TWIGA range remains versatile, robust and easy to operate whilst retaining its appeal to a wide market place.