Polyflor Flooring Adds Urban Edge To BMet
High-design concrete effect safety flooring from Polyflor was recently used at BMet college in Birmingham to create a fresh look for their reception area, common room and canteen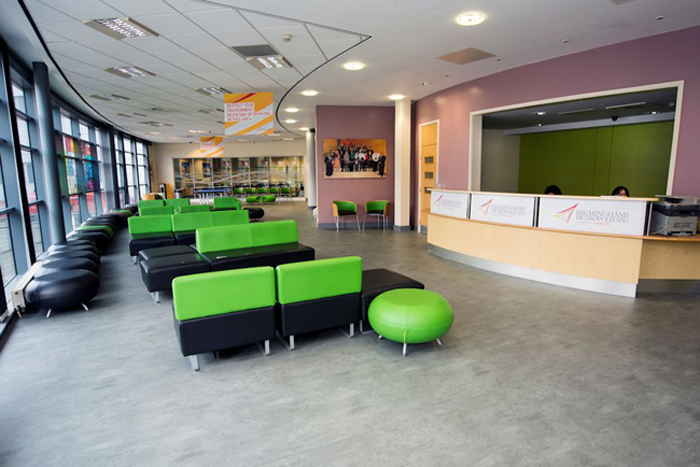 Safety flooring from the Polysafe Arena PUR collection was installed at the Further and Higher Education College's Matthew Boulton campus by local flooring contractors Top Mark Ltd. The Polysafe Arena range replicates on-trend stone, textile and abstract designs including this Dark Concrete design.

Suitable for busy commercial environments where there is a high level of footfall, Polysafe Arena PUR design-led safety flooring incorporates clear aluminium oxide safety particles through the performance layer of the vinyl which are virtually invisible to the naked eye, ensuring an attractive yet safe floor finish.

Like all Polysafe ranges, Arena meet slip resistance requirements, achieving 36+ on the Pendulum Wet Test with full conformance to HSE Guidelines and EN 13845. This product also passes the 50,000 cycles abrasion test demonstrating the sustainability of slip resistant performance. The Polysafe Arena range is enhanced with Polysafe PUR polyurethane reinforcement which is cross linked and UV cured so these floorcoverings can be easily maintained with a simple cleaning regime, providing optimum appearance levels and reduced life cycle maintenance cost savings.

Manufactured in the UK, Polysafe safety flooring contains recycled material and is 100% recyclable via the Recofloor vinyl take back scheme. The sustainability credentials of Polyflor's flooring are supported with the award of BES 6001 Responsible Sourcing Standard and certificated BRE Global A+ ratings for many ranges. Samples from any of our safety flooring ranges can be ordered free of charge on the Polyflor website or by calling the Polyflor Samples Direct Hotline on +44 (0) 161 767 2551.