Export Success For Bunting At The K2016 Plastics Show
Bunting has surpassed all expectations when exhibiting at the K2016 plastics show, held between 19th and 26th October 2016 in Dusseldorf, Germany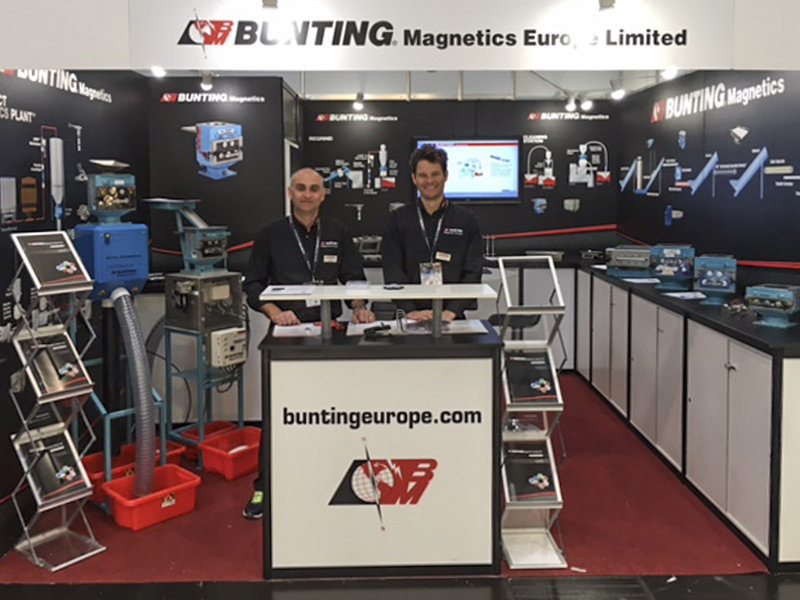 Bunting Magnetics is one of the world's leading suppliers of Magnetic Separators and Metal Detectors for the plastics and plastic recycling industries. The European manufacturing headquarters are based in Berkhamsted in Hertfordshire, UK and they have an extensive overseas network of distributors and marketing agents.

The trade fair K2016 presents the innovations of the international plastics and rubber industry and is held every 3 years in Germany. The show is reported to be the World's largest Trade Fair for Plastics and Rubber.

On stand G16 in Hall 10 at K2016, Bunting was exhibiting a range of equipment to separate metal contamination including Magnetic Separators and Metal Detectors. The equipment is used by companies manufacturing plastic and plastic products to remove metal. This then prevents damage to granulators, extruders and other processing equipment, and also ensures the quality of the end product. Metal Separators, including Eddy Current Separators, are used in plastics recycling to remove both ferrous and non-ferrous metals from primary and secondary plastic sources.

Dave Hills, Bunting's Head of Sales, who was on the stand for the whole show, was thrilled with the results of exhibiting.

"This was our [Bunting Magnetics Europe] most successful show ever. We have an aggressive export strategy and exhibiting at major overseas exhibitions like K2016 is vitally important to our growth. At K2016, we not only achieved but exceeded all of our objectives. Firstly, we secured orders on the stand. In total we sold 4 Quicktron Metal Detectors, 1 P-Tron Metal Detector and 13 FF Drawer Magnets. We also have over 200 leads and our sales team and network of distributors will be contacting all the visitors to our stand over the next 2 weeks."

An important objective at the show was meeting existing and new distributors to expand the Bunting sales network.

"Over the past 12 months we have appointed a number of new distributors and many were present at K2016. We met and appointed two new distributors in Denmark and Turkey. Also, we met potential distributors for 6 other countries. This would not have been possible without exhibiting at the show.

"K2016 also gave us the opportunity to meet and talk with other companies who supply equipment into the plastics sector. The performance of a blender, granulator or extruder is affected by the presence of metal. By working with the equipment suppliers and providing a metal separation solution, we help them provide the end-customer with a complete solution."

On the Bunting stand at K2016, there were international visitors from across the World including Australia, South America, Canada, USA and China. Dave Hills explained the reasons for Bunting's positive export outlook.

"There has been a great deal of negativity about UK exports in the media since Brexit. There is no doubt that there are some concerns, but the feedback from the show has been very positive. Customers and distributors are not overly concerned about the UK leaving the EU. K2016 demonstrated that export success is based upon being present and seen in the market."

The successful K2016 show in October 2016 follows Bunting's record sales month in September. Sales in September were 25% above normal levels and 10% higher than the previous record.