Perfect Solution To The Convection vs Combi Oven Dilemma
MONO Equipment is delighted to launch its superb NEW BX Eco-Wash Convection Oven range which is the result of extensive consultation with both bakeries and major food-2-go outlets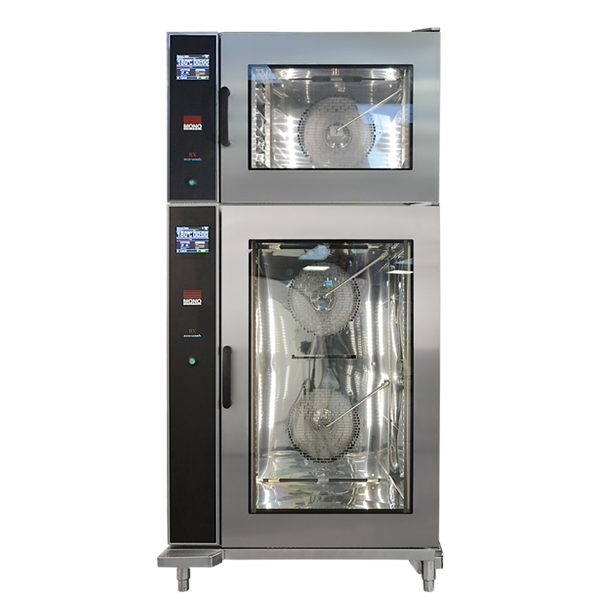 This exciting and innovative process has resulted in a completely new range of convection ovens which cuts through the convection oven vs combi oven question by incorporating a high-end, totally integrated Self Wash system to provide a highly effective solution for baking, roasting and cooking a variety of foods without the fear of cross contamination of odours or flavours.

Is a Combi Oven Really Necessary?
Although combi ovens naturally have their place, it has to be said that not all the functionality of an expensive combi is used by some customers who later find out to their cost that the oven they have purchased has in fact been over specified for their needs.

MONO's BX Eco-Wash convection oven provides the perfect alternative solution to a combi oven, at a fraction of the price, whilst affording genuine flexibility to produce an extensive and diverse range of products efficiently, effectively and more importantly, safely.

7 Key Benefits of MONO's BX Eco-Wash System:

− 5 Powerful, integrated wash programmes to suit every need; from a quick Hot Flush to an intensive Power Wash

− Provides the ability to switch between different product categories quickly and safely e.g meat-to-sweet

− Removes the risk of exposing staff to potentially harmful chemicals; MONO's Power Max Plus cartridge is sealed and only released when the oven reaches the right temperatures

− Staff can be employed on other tasks while the Self Wash system is in operation

− Removes the need for expensive, professional deep-cleaning

− Prevents cross contamination of different food groups

− Reduces the risk of fires by preventing the build-up of grease and food deposits

From Meat-to-Sweet in Just 35 Minutes
The ability to be able to switch quickly and safely between baking / cooking a variety of different product categories in the same oven is now a highly desirable requirement for many retailers and food-2-go outlets who need to respond to consumer demands throughout the day by offering the right product at the right time to capture as much footfall and resultant sales as possible. 2 of 3

The need for a quick and responsive product changeover has never been more important than it is today. MONO's new BX Eco-Wash oven provides complete Peace-of-Mind for the retailer as it completely removes the potentially devastating problem of cross contamination of different food groups e.g meat and sweet; the quick Hot Flush programme degreases, cleans and dries the oven in just 35 minutes, removing food residues, grease, odours and flavours, ensuring it is in pristine condition ready for the next product.
*based on an oven temperature of 180oC

Five Powerful Auto-Wash Programmes: MONO's Self-Clean system provides 5 distinct wash programmes to cater for every eventuality and includes a Hot Flush, a Gentle Wash, a Standard Wash and a Power Wash along with a Custom Wash facility which can be used to design your own unique wash programme to suit your specific needs.

Unsurpassed Cleaning Power: MONO's New Power Max Plus Cartridge is the very latest generation of oven cleaning detergents which has been specially selected to work with MONO's BX Eco-Wash convection ovens. Each cartridge contains two was seals which melt at different temperatures to firstly release the powerful detergent and later the rinse agent which guarantees even the most baked-on grime and grease is penetrated and removed. The clever double-wax seal also ensures the highly powerful chemicals are safely contained within the cartridge and never exposed to the user at any time.

NEW Variable Fan Speed: Our New BX Eco-Wash also boasts a superb new inverter drive providing the user with complete control of the oven's fan speed for each stage of the bake profile which means even the most delicate macarons can also be baked perfectly and safely.

The BX Eco-Wash Range – 40cm x 60cm & Gastronorm GN1/1:
The BX Eco-Wash Convection Oven is available in a range of different formats to suit most requirements:

− 4/5 Tray (1 x 4/5 tray oven)

− 8/10 Tray (2 x 4/5 tray ovens)

− 10-Tray (1 x 10 tray oven)

− 14/15 Tray (1 x 4/5 tray and 1 x 10-tray oven)

All ovens take 40cm x 40cm trays along with the option of Gastronorm GN1/1.