A Full Hygienic Offer From Dixon
It's not every year a company can celebrate 100 years of business, so Dixon are proud to be one of those few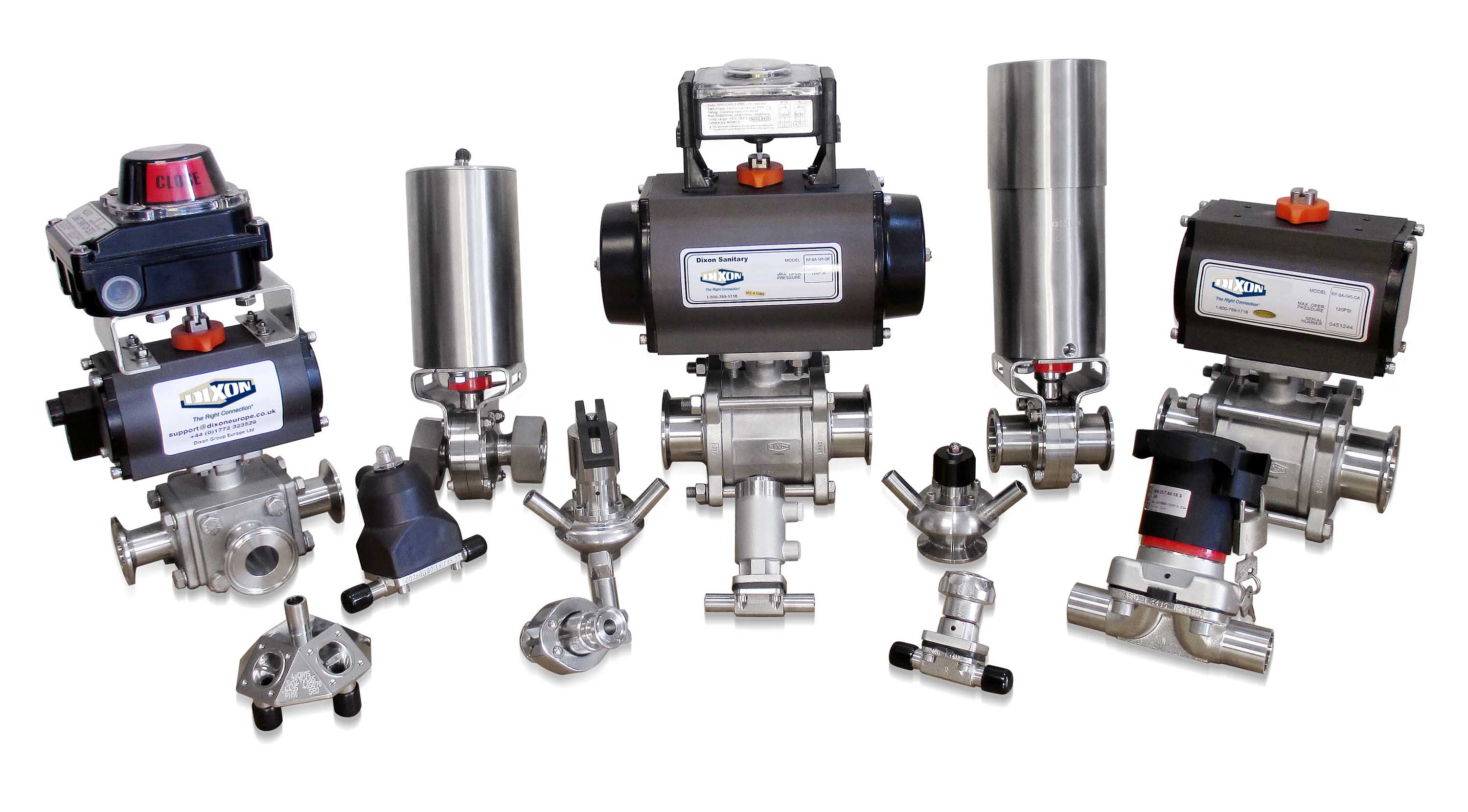 Founded in 1916 Dixon has grown to become a world leading manufacturer of hose fittings and related accessories for all industries.

Over the last 30 years Dixon has significantly extended its range of Valves, Fittings and Couplings for the Hygienic markets through product development and acquisition.

Dixon offers a full range of stainless steel hygienic fittings and valves for use in the food, dairy, beverage, brewery, cosmetic, chemical and pharmaceutical industries.

Of particular note is Dixon's range of high quality process valves which include ball, butterfly, diaphragm, seat, sample, and mix-proof valves which can be actuated to customer specifications and fitted with a range of stocked accessories that includes limit switches, solenoids and positioners.

Here in the UK, Dixon offers, specialised support and bespoke engineered solutions from concept, to design, through to installation. Dixon's onsite manufacturing and engineering department means that new designs, animations and 3D modelling can rapidly be produced to support customer's requirements.

As a result, Dixon Europe are pleased to be launching a new product, the Dixon Hygienic Breakaway Check Valve, which is proving to be 'the right connection', potentially saving companies thousands.

At a recent trade show, an engineer from a well-known UK dairy company explained how a milk tanker had driven away from the loading bay before disconnecting the delivery hose costing thousands in replacement piping and install cost.

Dixon's Hygienic Breakaway coupling is a solution to this problem. In such instance the coupling will break in two, separating the tanker from the loading bay. The 13kN break load bolts are the only items that will need replacing.

The new Dixon Breakaway Check Valve is an innovative solution that is designed to eliminate product loss too. It incorporates the Breakaway Coupling and a Hygienic Check Valve. It acts as a single unit that has a diverted breaking point which will break at a determined break-load. Then the check valve will close protecting the loading bay pipe system AND avoiding product spillage.

Designed with hygienic processing in mind, you can be assured that the breakaway conforms to FDA standards and is CIP capable; but, without the intricate workings and associated cost of similar products on the market.

Also available from Dixon's in-house production capabilities are full hygienic fabrications and custom made hose assemblies for the hygienic market. Our range includes but is not limited to San hygienic Rubber, Silicone, Metallic, PTFE lined, and general PVC suction and delivery hoses. This means that whatever hygienic special you require and whatever industry you serve to, Dixon can help.