New Noise Dosemeter Launched
Pulsar Instruments, manufacturer of occupational noise measurement products, has increased its range of noise monitors with the release of a new personal noise dosemeter: The NoisePen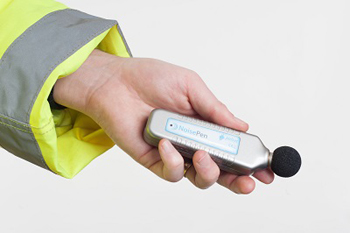 Education - Food Beverage – Machinery - Engineering – Plastics – PackagingThe NoisePen is designed for use by safety professionals who are keen to monitor hearing loss and avoid civil claims for noise-induced hearing loss.

The NoisePen is a stand-alone noise dosemeter which can be clipped to the user's shoulder or upper body, close to the ear using various mounting options. It is specifically designed to be worn by an employee throughout their working day or shift, measuring and registering all necessary data about their personal noise exposure. The new device is particularly relevant in noisy environments such as warehouses, machinery workshops, vehicle cabins and factories where workers operate on their own and where the use of a traditional hand held sound level meter to monitor noise exposure levels would not work.

The NoisePen is simple to use, yet a powerful tool. It allows for over 30 hours of measurement data to be safely and effortlessly stored in its large memory. It is possible to schedule measurements for up to 28 days into the future to suit work patterns, which is ideal if workers are not due back to base at the end of the day. All interaction such as setup, start, stop, download and report processes are undertaken via Pulsar's intuitive reporting and analysis software package: AnalyzerPlus.

Because it is self-contained, the NoisePen is great value and will suit those who have not received any specialist training in noise measurement.

Sarah Brack, MD of Pulsar Instruments said: "We are delighted to introduce this new addition to our existing range of personal noise dosemeters. This is British engineering at its best. With the NoisePen, we now have a family of Personal Noise Dosemeters with global mass market appeal that will suit a range of applications and budgets."

The NoisePen is reliable, time saving and self-contained: a powerful companion for any compliant noise risk assessments in the workplace. It now takes it rightful place alongside Pulsar Instruments' wide range of solutions for assessing noise exposure in the workplace to achieve compliance with Noise Regulations around the world.

The NoisePen is designed and manufactured entirely in the UK and is supplied with everything required to conduct a fully compliant survey. It meets IEC 61252:1993 and ANSI S1.25: 1991 standards.