New Universal X6 Slitter Rewind To Be Shown At Drupa 2016
The latest version of the Universal X6 slitter rewinder will be on the stand of Universal Converting Equipment at Drupa 2016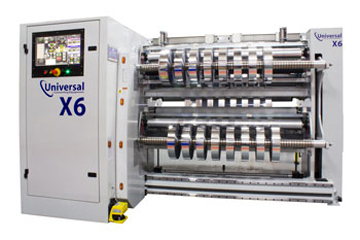 Universal will be on stand D12 in Hall 12 and will be exhibiting the X6 slitting machine, a CCA automatic core core cutter, a RT2 roll handling trolley and a hot melt coating system.

The Universal X6 slitter rewinder will exhibit the latest technology including:
• Fast loading system for parent roll
• Print repeat length measurement and impression counter
• Automatic guider eye positioning
• Automatic shear and razor knife positioning with individual knife holders
• Tension zone through slitting
• Closed loop rewind tension control
• Constant geometry contact rollers
• Automatic core positioning
• Automatic roll unloading
• Dynamic diagnostic systems for in plant and remote access

The latest features now available on the Universal X6 slitting machine are automatic core positioning and print repeat length measurement. The automatic core positioning system replaces the use of lasers and other markers to align the cores against. These systems still rely on the operator to accurately position the cores and are prone to inaccuracy and take time that the operator could be using for different work. The automatic core positioning system picks up each core and takes it to the exact position to line up with the automatically positioned knives. The system works with cores down to 25mm width and can be configured for different core diameters. Inaccurate core positioning can cause starring of the material near the core resulting in the need to rewind the roll which is time consuming and expensive.

The Universal X6 slitter rewinder can also be configured with a print repeat length measuring system and impression counter. The system will measure the repeat length through the roll and can be set to alarm if the length is outside of pre-set limits. In addition to giving the total number of impressions on a roll, the impression counter also enables the machine to slow down and stop when the required number of impressions are on the roll. The customer has the option at the end of each set of rolls to produce a report showing the tension profile of each roll, the length of the roll, number of impressions and the repeat length profile of printed material to form part of their quality assurance system.