Spearhead Flies High
Spearhead is renowned globally for its wide area grass-cutting machines - none more so than the Multicut Series, perfect for providing expansive grassy areas with a regular close crop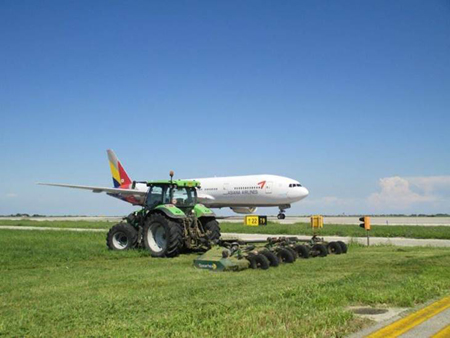 Of significant importance are those areas around airport runways, and by keeping the grass short, birds are discouraged from landing in an attempt to curtail the potentially lethal effects of birdstrike.

Thousands of planes fly through global aviation facilities every day, and Spearhead has long since provided the machines of choice for deterring the most prevalent of predators.

Operating in airports worldwide Spearhead machines are proven to deliver the large area mowing capabilities that airports require.

Demonstrative of the Worcestershire based company's experience in this field is their association with significant trade bodies such as the AOA (Airport Operators Association), the BAG (British Aviation Group) and the BASEA (British Airport Suppliers and Equipment Association) – all highly-regarded trade bodies who work closely with airport operators all over the world to bring the best working practices and suppliers to the aviation industry.

Mark Bayliss – Export Sales Manager at Spearhead said "We are globally renowned for our expertise in the aviation sector and have machines operating in airports from Birmingham to Bangalore. We are continuing to work with our global distributors to build on this success. I am particularly keen to grow our presence in this sector, and welcome discussions with airport authorities who are looking to review their grassland management techniques."

Antony Prince – Director of Sales and Marketing at Spearhead added, "having forged strong working relationships with the leading aviation industry bodies in the UK we continue to be recognised as Europe's leading rotary mower brand capable of providing vegetation management solutions across a diverse range of industries".

Spearhead delivers a huge range of vegetation maintenance equipment with the worlds most versatile rotary mower range offering cutting widths from 1.6 through to 12.1 metres. This impressive range of equipment is bolstered by a complimentary flail mower offering and the worlds widest range of reach mowers with arm offerings from 3.2 through to 17.0 metres.