Pulsar Instruments Announces The Launch Of Its New Website
The new look website has been redesigned to be simpler and quicker for our visitors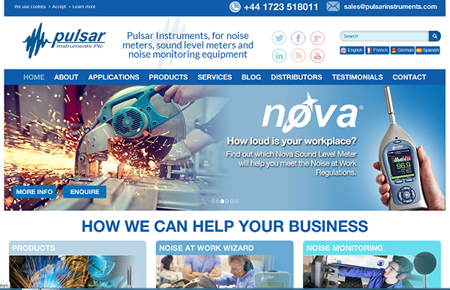 Customers, businesses and colleagues accessing the site will find a clearer layout that makes it quicker and easier for them to do whatever they need to do online - whether it be learning about our noise measurement products, apply for further details or just find information.

The new website is compatible with smartphones and tablets as well as a laptop or PC, so customers will be able to do what they need to when and where it is most convenient.

This is just the start of the development of the website and the first step in a much wider customer service excellence programme that Pulsar Instruments are launching today.

We are keen to keep hearing from customers and partners about what they think of it. Over the coming months, we will be adding additional functions to the site that will make it even easier and faster for people to go about their business with us.

Key features of the redesigned website include:
• clear, easy-to-use new layout
• designed for easy use on PCs, mobile phones and tablets
• updated content will continue to be improved
• new online forms that make it easier than ever for customers to contact us
• a better search function.

The site will be updated on a regular basis with blogs, news, product launches and new content, so please keep visiting!