Conren Russian Agents Visit UK Manufacturing Facility
Conren recently welcomed their agents for Russia and the Baltic States to their manufacturing facility at Holmewood, Derbyshire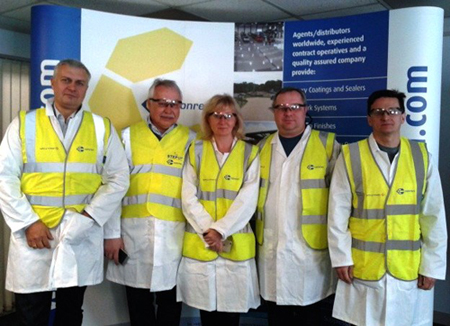 FPK Transagentsvo, based in Moscow, has been purchasing the Truegrip anti-skid system for highways since 2012. This visit was designed to provide training to extend their knowledge of the product and its types of application.

A technical presentation was followed by a detailed Q&A session, highlighting specifically the preparation and repair of road surfaces prior to the installation of Truegrip.

A tour of the Laboratory completed the visit, where the guests spent some time perfecting their skills on the mixing and application of the product.

The knowledge exchange, as a result of the visit, looks set to see export sales increase to this region in 2016 and beyond.