The Control Of Noise At Work Regulations Are 10 Years In April
April sees the 10th Anniversary of the Control of Noise at Work Regulations (2005) which came into force in April 2006 in the UK for all employers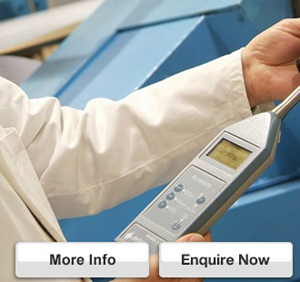 The Regulations are particularly important if your business uses noisy powered tools or machinery.

As far as safety regulations go, the Control of Noise at Work Regulations may be one of the less visible in a heavy portfolio of Health and Safety responsibilities. That said, huge progress has been made in the last ten years to raise the awareness of industrial deafness or noise-induced hearing loss.

However, there is still a lack of understanding and urgency when it comes to controlling noise in the workplace. This may be because its effects are hidden from view. Importantly, the last ten years have seen a big rise in civil claims pushed by advertising campaigns and calls made on behalf of injury lawyers prompting employers to stay alert and take action.

The 2005 Noise at Work Regulations replaced the 1989 Noise Regulations and introduced new requirements for action to be taken by employers. In the UK, the 2005 Regulations require employers to take action to protect workers at levels of noise 5 decibels lower than in the 1989 Regulations. A big drop! They also stipulate health surveillance (hearing checks) for workers regularly exposed above 85 decibels.

The Regulations clearly define 'exposure action values', levels of noise exposure which, if exceeded, require employers to take specific measures. There are 'lower' and 'upper' action values. Employers need to compare estimated noise exposure with the action values to establish what specific actions are required in order to reduce risk from noise.

Where the risks from noise are high, employers should manage them using a prioritised noise-control action plan which must include:

• Assessment of risk by a 'competent person' to assess noise levels (Regulation 5)
• Control of noise at source (Regulation 6)
• Provision of suitable hearing protection (Regulation 7)
• Maintenance and use of PPE equipment (Regulation 8)
• Information, instruction and training about noise levels and noise damage (Regulation 10)
• Health surveillance (Regulation 9)

Failure to comply with the Noise at Work Regulations can result in lost productivity to your business, leave you liable to enforcement action, including prosecution, and may result in civil claims from employees and a dent in your reputation.

One sure way of protecting yourself is to obtain an accurate and reliable estimate of your employees' exposure against the exposure action values and legal limit values stated in the Regulations.

Noise levels should be assessed by using the correct equipment that offers the right accuracy level for the required application. You can either use a handheld sound level meter or personal noise dosemeter (which gives an average noise exposure reading for a given duration, such as an 8-hour working day) or a combination of both. Pulsar Instruments offer a wide selection of both solutions to ensure that your measurements comply with the expectations of the standard.

Remember that for noise at work measurements, the meter you opt for should be able to provide you with the equivalent continuous 'A'-weighted sound pressure level in decibels or LAeq and the maximum 'C' weighted peak sound pressure level or LCPeak. Also, under the Control of Noise at Work Regulations (2005), a Class 2 sound level meter is considered to be sufficient for measuring general noise within an occupational setting.

Finally, the Regulations recommend that you continuously review your risk assessment if circumstances in your workplace change and affect noise exposures.

In the last ten years, Pulsar have helped thousands of businesses in the UK and around the world to meet compliance with Noise Regulations by providing compliant and reliable noise measurement technology, training and exceptional customer care support.