Measuring Noise At Work
Which is the right product for your application?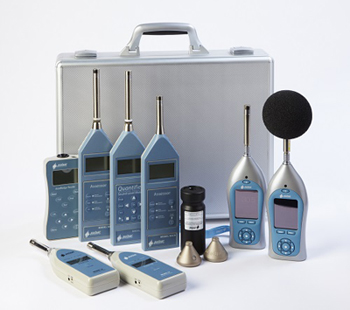 With nearly 50 years' experience in the noise measurement and control sector, Pulsar Instruments is synonymous with noise at work expertise, supplying noise monitoring equipment to the UK and over 45 countries around the world. Pulsar's product portfolio is tailored to satisfy a multitude of noise monitoring requirements; our safety professionals tell us the application they have and we find the right product to meet their needs. Below are typical applications for which Pulsar Instruments provides specific portable sound level meters, personal noise dosemeters or wall mounted noise-activated warning signs.

Basic noise level measurement and spot checks
Pulsar offer a basic low cost digital Class 2 sound level meter (Model 14) ideal for boundary noise surveys and fire alarm testing. The meter is very light, easy to use and non-data logging. Features 'A' and 'C' weighting and Max hold function. Supplied with carrying pouch and windshield and 24 month warranty.

Professional occupational meters for Noise at Work compliance
Pulsar work with industrial sectors that need to prove compliance as far as noise levels are concerned. Its latest Nova range of outstanding professional sound level meters are ideal for industrial hygiene, entertainment, vehicle and environmental noise measurements. Using the latest technology, the Nova range offers the unique opportunity to add features either at the time of purchase of later on. Analysis software is available with data logging models.

Personal noise dosemeters to capture and measure individual noise exposure
Millions of workers are still exposed to high levels of noise around the world. A noise dosimeter can be used when measurements with a sound level meter would be difficult or virtually impossible. The device is fixed to the shoulder during an entire shift. It gives the total exposure accumulated during the time worked (expressed as LEX,8h). Dosimetry reflects the reality of the working day and will capture noisy lunch breaks, machines used 'incorrectly' etc. Supplied with reporting software to help with data analysis.

Wall-mounted noise-activated system to alert staff of rising noise levels
Pulsar offer a simple tool available to use in a range of industrial settings to inform staff and visitors in real-time about noise problems. PulsarSafeEar is a basic warning system, yet sophisticated enough, to activate in response to certain noise levels. Very simply, a highly visual warning message or safety icon flashes on a master board when a pre-determined and pre-set noise level is captured via its microphone and exceeds its limit (in decibels).