First Appearance Of The Stainless Steel Separator In Germany
The first appearance in Germany of the new High Intensity Separation Conveyor (Stainless Steel Magnetic Separator), designed and manufactured by Bunting Magnetics, will be at Recycling Technik 2015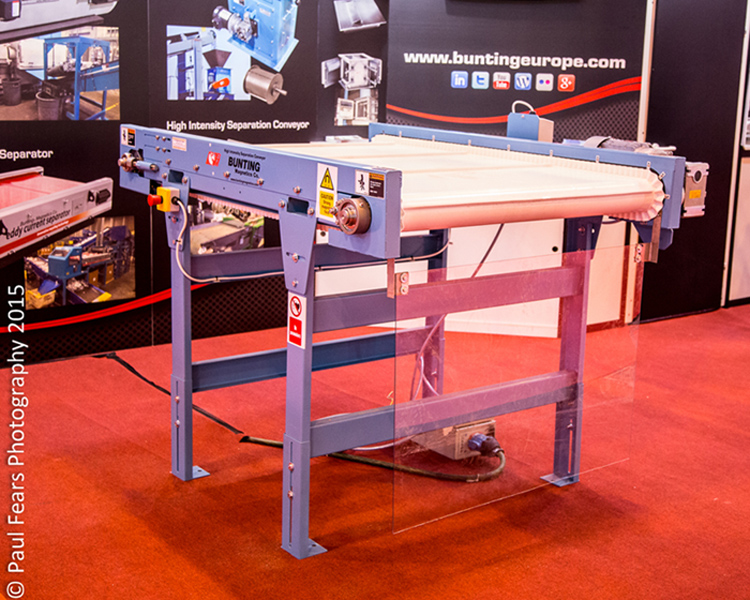 Separating and recovering valuable Stainless Steel is a problem faced by recycling companies globally. Following a prolonged period of research and development, Bunting Magnetics has developed and is launching a sophisticated and high intensity magnetic separator specifically to solve the problem of stainless steel separation.

There are 5 types of stainless steel, with Ferritic, Martensitic, Duplex and Precipitation Hardening (PH) all being magnetic, and Austenitic being weakly magnetic in certain circumstances.

On the High Intensity Separation Conveyor, magnetic susceptible stainless steel is separated using a complex, unique and exceptional strong magnetic pulley configuration. In operation, a material mix of non-metallic and stainless steel is transported along a two pulley conveyor belt into the high intensity magnetic field of the head pulley. In the intense 'Separation Zone', weakly magnetic stainless steel is attracted and separated from non-magnetic material.

The ability to separate the weakly magnetic stainless steel is due to the design of the magnetic head pulley. The design and configuration of the high intensity permanent Rare Earth Magnets in the head pulley produce a unique magnetic field and thus enables even stainless steel with very weak magnetic properties to be attracted and separated. The design work was undertaken by experienced Bunting engineers and took over 12 months to perfect.

There has already been a huge response from recycling companies in the USA and UK, with the first European installation commissioned in September 2015. In particular, there has been a great deal of interest from companies recycling UPVC window frames, where stainless steel removal is a huge issue.

On their stand at the Recycling Technik 2015 show, Bunting will be demonstrating a working High Intensity Separation Conveyor. Carlton Hicks, Bunting's UK Sales Manager explained:

"Following the excitement and incredible interest generated at the recent RWM (Waste & Recycling) exhibition in Birmingham, UK, exhibiting at Recyling Technik in Dortmund gives us a fantastic opportunity to introduce this new Magnetic Separation technology to companies in Germany and mainland Europe. The new Stainless Steel Separator is the third step in a metal separation process. Firstly we remove the strongly magnetic materials with an Overband Magnet, Drum Magnet or Magnetic Pulley. Secondly, we recover and remove the non-ferrous metals with the Eddy Current Separator. Up until now, there have been difficulties in practically and economically removing the stainless steel, which is now possible with the High Intensity Separation Conveyor."

On the stand at Recycling Technik, Bunting will be promoting a full range of Metal Separation equipment for all sectors of the recycling industry, including Overband Magnets, Drum Magnets, Pulley Magnets, Plate Magnets, Grate Magnets and Metal Detectors. With a collective 30 year plus experience in supplying the recycling industry with metal separation solutions, the Bunting technical sales team will be available to discuss any aspect of metal recovery and separation.

Recycling Technik 2015 takes place in Dortmund, Germany on 4th & 5th November 2015.