Unique Sales Corporation Appointed To Represent Titan Slitter Rewinders In Pakistan
Atlas Converting Equipment Ltd. is pleased to confirm that it has appointed Unique Sales Corporation as its new agent to represent the range of Titan Slitter Rewinders in Pakistan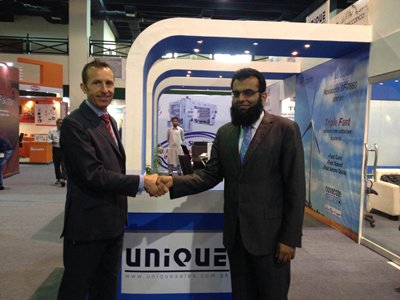 Unique Sales Corporation is located in Karachi and has been established in the flexible materials converting industry since 1980. The company is one of the leading suppliers of flexible packaging materials in Pakistan and specialises in complete packaging solutions including raw materials, components and machinery for printers and converters, particularly within Pakistan's food and FMCG industries.

"We are very pleased to now represent Titan Slitter Rewinders in Pakistan and to add them to our portfolio of products," commented Mr. Owais Mahmood, Managing Director of Unique Sales Corporation. "We look forward to a successful partnership with Titan and to supporting this important and well established brand of Slitter Rewinders in our market area," he confirmed.

"For many years Pakistan has been an important market for both Atlas & Titan Slitter Rewinders," explained Barrie Homewood, Sales & Marketing Director for Titan. "I am certain that our new collaboration with Unique Sales Corporation will prove to be beneficial to both companies in the future," he confirmed.

The new agreement will cover sales of new Titan Slitter Rewinders, upgrades and retrofits to existing Titan machinery installed in Pakistan, as well as spare parts, customer service & support.