Plug And Play Wiring System Speeds Up Parlour Installation
Fullwood has launched a unique new 'plug-and-play' cabling system – based on a FarmCAN™ wiring loom – which makes parlour installation simpler and much quicker.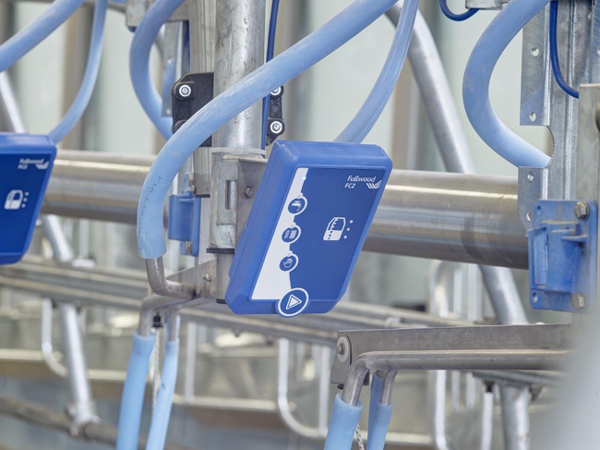 The Fullwood FC2 is a modular system which combines power and communication channels to link separate milking parlour components such as a milking control panel, power unit, milk meters and pulsators.

The FC2 system significantly simplifies parlour design by allowing each individual component to be installed, configured, serviced and operated with greater ease. It also reduces installation time and allows milking systems to be upgraded and extended more quickly and at less cost. It also reduces energy consumption thanks to its latest generation, smart technology.

The FC2 control panel is a simple to use operator interface which feeds data back to the milking operative to indicate which mode the milking cluster is currently in: whether that is milk stimulation mode, milk let-down mode, cleaning mode or if a cluster has been kicked off. It also enables the milking operator to adjust the pulsation mode for improved teat health.

The control unit also enables remote software updates to be made and allows Fullwood technicians to carry out remote diagnostics and fixes for improved parlour reliability and reduced down-time.

Fullwood FC Flow Sensor
The FC2 system is compatible with all Fullwood milking parlours – from cow and sheep systems, to goat, camel and buffalo parlours – and links to components such as the new Fullwood FC Flow Sensor.

This new generation, intelligent milk meter features a compact, maintenance-free design and uses on-board diagnostics for rapid set-up, calibration and data feedback to ensure that cluster removal takes place at precisely the correct milk flow, preventing 'over milking' and therefore safeguarding udder health.

The new sensor uses an unrestricted milk flow design to maintain a more stable vacuum and, unlike most milk meters, protects milk quality by eliminating lipolysis and the creation of foam.

Fullwood FC Pulsator
The FC2 system is also compatible with a new pulsator – the Fullwood FC Pulsator. This intelligent device has adjustable pulsation settings and can be configured to a 'liner-open' option for gentle teat cup detachment. Like the Fullwood FC Flow Sensor, the new pulsator is maintenance free and has a low energy requirement.

Fullwood FC Cabling System
The entire FC2 system takes power from a specially designed power unit which links to the parlour's wiring loom via a 'plug-and-play' FarmCAN™ network of cables. Each component uses double-sealed connectors for maximum network stability and can be installed without the need for specialist electrical tools.

By utilising the very latest technology, farmers installing the new Fullwood FC2 system will benefit from faster installation times, reduced non-milking times and from the ease of remote diagnostics. No longer will engineers need to visit the dairy to investigate and resolve each and every issue – again ensuring minimal down time in the parlour.