The Flotation Technology Experts
Spooner Industries has long been a leader in technology but perhaps not quite so well-known is the extent to which this is used in developing individual solutions for each customer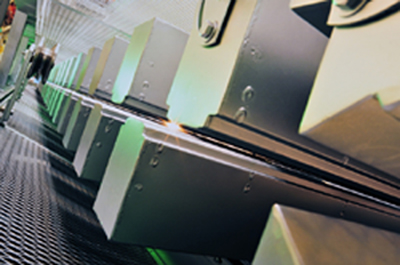 The wealth of accumulated knowledge creates an enviable position for Spooner as the industry expert for a whole variety of coat drying processes.

The technology at the very core of this expertise is the air flotation nozzle which is key to the dryer/oven performance. The type and configuration of the flotation nozzle selected is crucial to the success of each particular process. The extensive variety of Spooner flotation nozzles range from the single slot air foil (SpoonerFoil) to the twin slot air flotation (MultiFloat, SpoonerFloat, SupaFloat and MaxFloat), with many more derivatives available.

However, Spooner continues to extend their range, developing new designs in response to specific customer requirements.

Applications are also almost limitless. Examples of the different capabilities include:

• Very lightweight/low tension webs e.g. thermal stabilisation of PET films.
• Porous webs e.g. fusing of heat seal teabag paper.
• Very heavy/high tension webs e.g. coated steel.
• High performance drying – more than 30% increase in heat transfer with the HPC™ nozzle system.
• Wide width capability e.g. up to 10m wide air flotation dryers on the world's widest paper machines.

Trial facilities are available at the Spooner R&D Test centre where a full range of flotation nozzles are housed for product testing. This specialist facility includes a modern high speed coating and laminating line equipped with air flotation drying and capable of process speeds up to 1000m/min.

Recent additions to the line have extended capabilities to allow very low process speeds, as low as 0.5m/min. Incorporating 'state of the art' sensors and a sophisticated data-logging system for the comprehensive monitoring, recording and analysis of all process parameters, the four zone dryer can accommodate the full range of Spooner flotation nozzles maximising flexibility.

In essence Spooner flotation nozzles provide highly efficient heat transfer and very stable flotation with no vibration or web flutter whatever the application. And with a nozzle for almost every process, Spooner has experience of floating almost every material, from steel strip to lightweight films.