Refurbishment Of Roofs And Canopies At The Iconic Byker Wall Estate
When special profiled GRP sheets were required for a refurbishment programme at the Byker Wall Estate in Newcastle upon Tyne, there was only one manufacturer that fit the bill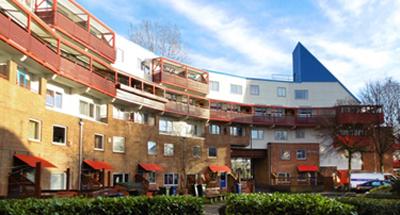 Filon Products' "can do" attitude and experience in the refurbishment sector was called upon to supply the roofing sheets to access decks and canopies for doorways and covered walkways.

Designed by notable architect Ralph Erskine and completed in the 1970s, the estate occupies a 200 acre site previously comprising Victorian slum terraced housing. It is widely recognised as a successful example of urban regeneration and has won many architectural awards.

Today the estate is Grade 2 listed and recent refurbishments have involved careful reinstatement of original features and colour schemes, using modernised materials where possible, while retaining the look and feel of the 1970s design scheme.

Steve Vickers of Filon Products was invited to a site meeting at the estate, to make recommendations for refurbishment of translucent GRP canopies and coloured door canopies in various areas of the estate.

Steve Vickers takes up the story: "We were approached because Filon sheeting had been used over the years for repairs in specific areas although we had never been to site. Different contractors had used various profiles and sheet types with no consistency being applied. The brief from English Heritage was to match the original sheet specification as closely as possible whilst upgrading the non-fragility status keeping in mind that the buildings are Grade 2 listed.

Historical documents and research revealed that the original profile used on roofing to balconies, canopies and covered walkways, was British Alcan A7. We were able to cost effectively match this profile using our Filon Supasafe triple reinforced sheeting with a Class 1 fire rating.

Original drawings of the door canopies were also provided and we developed as close a profile match as possible using opaque coloured Supasafe with a Class 3 fire rating."

Following development and production of the sheets, contractors were appointed and further site meetings took place to agree details such as fastener and sealant specifications with a satisfactory installation following.

Filon Supasafe roof sheets and rooflights are available in three fire resistant grades to meet current Building Regulations for Fire Safety and as well as natural translucent, they can be produced in almost any colour and to match most current and obsolete roofing and cladding profiles.