Discover How To Bake
MONO Equipment, the leading designer and manufacturer of bakery and foodservice equipment in the United Kingdom is hosting its very first one-day Bakery Masterclass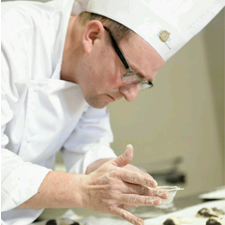 The Masterclass focussing on Artisan Bread, will take place on 29 July at our premises in Swansea, South Wales.

Sales of sour dough breads have rocketed in the last few years and there has never been a better time to capitalise on the sour dough phenomen.

Whether you are a complete novice or a more experienced baker looking to hone your skills, MONO's Bakery Masterclass introduces the fundamental skills and methods in needed to create and bake a range of artisan breads. Techniques are taught by hand and machine through a combination of demonstrations and practical sessions.

You will also learn the scientific process applied to yeasted dough to gain an understanding of each ingredient and their interactions during the production process.


The Essential Baker

Wayne Caddy, from the Essential Baker, will be your tutor for the day. Wayne has over 20 years' experience in the baking industry and is keen to pass on this expertise to a new generation of artisan bakers.

Wayne started his baking career in 1987 whilst studying and working in Yorkshire, and won the BIA Student Baker of the Year in 1995 and more recently was part of Team UK in the Coupe Louis Le Saffre and is the first UK baker to compete in the prestigious Masters de la Boulangerie.

He also works part time as Head of Baking at the world famous school of Artisan food based near Nottingham, training full-time advanced bakery diploma students.


Course Content

During this specialist masterclass, you will train in our unique on-site test bakery using MONO Equipment's wide range of state-of-the-art equipment such as Yeast Levening machines, Spiral Mixers, Deck Ovens and Retarder Provers.

Key topics covered during the Masterclass include:

- Overnight doughs
- Scoring techniques
- Stencil Techniques
- Moulding and Shaping Artisan Breads
- Artisan Mixing Methods
- International Breads: Pain au Levain, French Country Bread, Ciabatta with biga, Focaccia, Traditional Baguette, Pizza Metro

As a participant of MONO Equipment's Artisan Bakery Masterclass you will be supplied with all the ingredients and equipment needed and everything you create throughout the course is yours to take home at the end of the day.
The Artisan Bakery Masterclass costs just £120 which includes a freshly baked pizza lunch with your tutor Wayne Caddy, together with a FREE Book, The Larousse Book of Bread, by famous French Baker Eric Kayser, along with all recipes used during the day.

All participants also receive a Certificate of Attendance duly signed by Wayne Caddy and the Artisan Bakery Masterclass starts at 9am and finishes at 4pm. As a special thank you we promise to refund the £120 course fee if you purchase any equipment from MONO Equipment within 2 months of attending the course.

Places are limited; to reserve your place on the MONO Artisan Bakery Masterclass please contact Cath Parry cparry@monoequip.com today.