GRP Water Storage Tanks To Ministry Of Electricity In Iraq
Dewey Waters Ltd are delighted to have been involved in an extensive project in the Middle East manufacturing and supplying GRP water storage tanks to the Ministry of Electricity in Iraq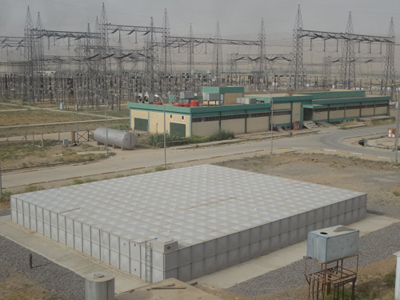 Work began on the project in 2012, since then we have supplied a number of large sectional GRP water storage tanks and assisted local crews with the installation through training material.

The first sectional tank was supplied in August 2012 sized at 21m x 18m x 2m giving a nominal storage capacity of 756,000 litres. This was shortly followed by a further order for 21m x 18m x 2m tank (756,000 litres nominal) in 2013. A third order for a 16m x 16m x 2m tank (512,000 litres nominal) was then supplied in early 2014.

Various challenges where faced throughout the projects, through our excellent customer relations we successfully overcame the difficulties.

Our customer's confidence in our company and our product resulted in further orders and good long standing relationship. We look forward to working with them in the future.