Pegler Yorkshire Launches New Info Hub Website
Leading manufacturer of plumbing and heating solutions, Pegler Yorkshire, has launched a website which offers much more than general product or technical data information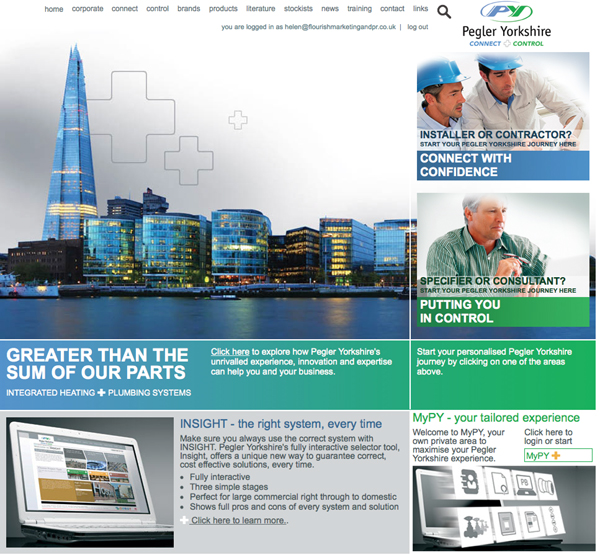 It centres around the individual requirements of specifers and installers and assists them in finding solutions for prevailing industry issues.

With the plethora of information now available at the touch of button we wanted to offer our community of specifiers, installers and merchants a hub of information that would address important issues relevant to them, said Phill Jackson Marketing and New Business Director at Pegler Yorkshire.

Over the years we have built upon our huge amount of experience and knowledge of the industry and created a successful portfolio of some of the worlds' most iconic plumbing brands ¬ it is this that has uniquely positioned us as a company able to offer unrivalled and unbiased advice which we have incorporated into our new website.

The new look Pegler Yorkshire website features a dedicated area for specifiers, 'Putting You in Control' and another for installers/contractors 'Connecting with Confidence'. As specifiers navigate to their desired section a host of industry issues will present themselves such as; Reducing Buildings Energy Usage, Creating a Cleaner Environment or Efficient Heat Distribution each goes on to detail what the industry take is on these issues and offers an unbiased solution.

For installers/contractors project issues such as choosing the right system, calculating cost savings and training is addressed offering a range of options and solutions.

Phill continued: We feel that it is imperative to invest in future generations and see that by imparting our knowledge with the people that want to innovate and deliver on global issues including sustainability and energy efficiency will help the growth of the UK plumbing and heating industry.

Additional to the new website Pegler Yorkshire is active within the educational sector and regularly visits colleges and provides onsite training for students and apprentices. This is also supported by online training and CPD accredited modules.