Metric Group Designs Terminal For Supermarket Giant Tesco
The first of Tesco's new Metric terminals has been installed at their Truro store. A total of 10 touch screen terminals have gone live to validate free parking for customers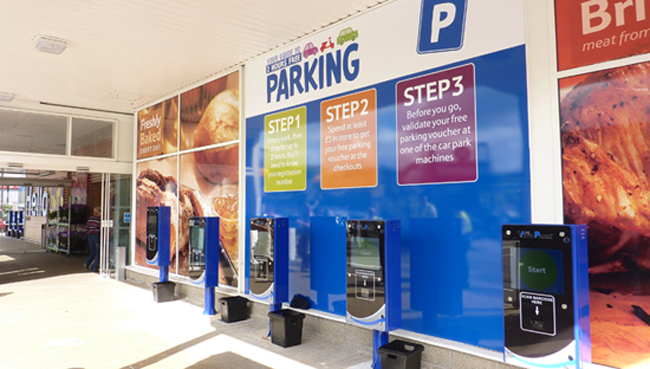 Metric's VivoPark SystemTesco opted for Metric's VivoPark system following an extensive evaluation and trial period. The cutting edge Automatic Number Plate Recognition (ANPR) solution provides the retailer with a customer journey designed with minimal impact on customers of the store.

Metric has led the way in the supply of ANPR terminals for more than a decade and the latest evolution of this system, VivoPark, takes all the knowledge and experience gained from previous projects into a leading edge solution for today.

Said Richard Boultbee, Metric Group's Sales and Marketing Director: "We are delighted to be working in partnership with Tesco. We have worked closely together to provide a system to prevent the abuse of free parking whilst maintaining an easy to use and stable interface for the end user".

"What this means for the customer is they freely park, there are literally no barriers to using the store and on completion of their visit they collect a concession voucher.

"Customers enter part of their registration number of their vehicle on a large touch screen terminal and the 'customer journey' guides the user through the next steps"

"At the end of the process the customer scans a barcode voucher which validates their free parking in the store's car park.

"The feedback we have received has been fantastic, the VivoPark system is operating very well," said Mr. Boultbee. "The store's manager has received really positive comments from users of the car park."

The car parking scheme monitors the length of time customers can use the car park, and customers must spend a minimum of £3 in the store to avoid a fine. A system of inputting car registration and code into a terminal is required to register both the length of parking and the eligible spend in store.

A key motivation for this change is an attempt to prevent non customers using the car park and shopping in the town centre putting pressure on the spaces in the car park for genuine Tesco customers.

Results of car park research show the vast majority of customers have noticed the terminal changes. Not only are the terminals considered to be easy to use by most customers, but they are also considered to be a significant improvement on the previous version.

Most customers say they will visit the same frequency in future as a result of the terminal improvements. On average 13% of customers say they will visit more often which is driven by top-up shoppers.

A very strong 98% of customers say they understand the system, a significant improvement on the previous year.

In a follow-up installation, Metric has installed VivoPark at Tesco's Slough store where 13 terminals provide validation for free customer parking for two and a half hours. Additional orders to install the system at a further two stores have so far been received.