Oxford Instruments Introduces Analyser For Regulatory Compliance Screening Of Consumer Goods
Manufacturers, importers and retailers of consumer goods and components are set to benefit from the release of a lightweight, handheld X-ray fluorescence (XRF) analyser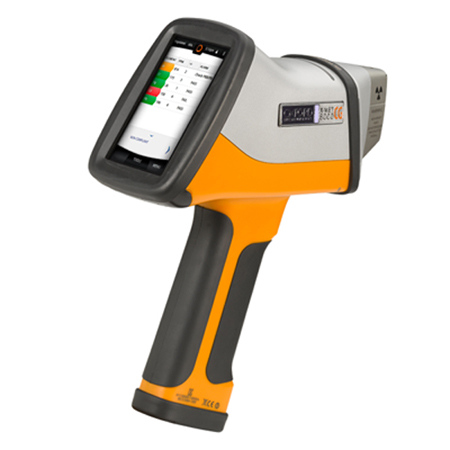 Oxford Instruments X-MET8000CGThe analyser is optimised for regulatory compliance screening of raw materials, components and finished goods. The X-MET8000CG from Oxford Instruments provides rapid, reliable materials testing via a large screen and intuitive user-interface, which coupled with a long battery life, makes it extremely easy to use and ensures analysis costs are kept to a minimum.

For consumer product manufacturers, retailers and importers, the X-MET8000CG improves the compliance management process by preventing costly rejects, reworks or recalls, identifying restricted or hazardous elements before they enter the manufacturing process or supply chain. With the Regulated Goods mode, the XRF analyser automatically selects the right calibration and the customisable display provides colour-coded pass/fail messages within seconds. When testing inhomogeneous samples, the X-MET's averaging function ensures an accurate, representative result of the whole sample.

The X-MET8000CG handheld XRF analyser provides non-destructive analysis, which means that items can be kept for future records or re-introduced into the supply chain after the compliance checks have been made.

The XRF analyser is optimised for the detection of chlorine (Cl), cadmium (Cd), lead (Pb), mercury (Hg), chromium (Cr), Bromine (Br) and other restricted toxic elements in plastics, product packaging, metals or mixed materials. Testing requires minimal operator training, little or no sample preparation and is fully portable, giving the ability to screen items at precisely the location required, meaning no unnecessary materials movements.

As part of a compliance management program, XRF analysis enables the rapid screening of regulated chemical elements to help conform to certain directives and regulations, such as:

• CPSIA (Consumer Product Safety Improvement Act) of 2008
• RoHS (Restriction of Hazardous Substances)
• WEEE (Waste Electrical and Electronic Equipment)
• ELV (End of Life Vehicles)
• EN 71-3

The screening process when using the X-MET8000CG is straightforward, fast and incredibly flexible. Typical testing times are between 30 and 90 seconds, an integrated camera always ensures pinpoint accuracy on the sample. Small parts can be analysed using the included light stand and safety shield, or an optional benchtop stand transforms the X-MET into a benchtop XRF analyser, particularly suited to awkward shapes.

Christelle Petiot, product manager, Oxford Instruments commented "Our aim was to enable manufacturing companies, retailers and importers alike to readily establish Reasonable Testing Programs (RTP), consolidating operational costs and controls, and avoiding duplication of effort or activity. The X-MET8000CG provides the ideal means to implement these compliance screening processes, not only through the speed, convenience and accuracy of the analysis, but also the X-MET's powerful data management, with up to 100,000 results including spectra and camera images being stored, plus the flexible report building functions – requiring no additional software on a PC."

Optimised geometry of the large-area SDD (silicon drift detector) and X-ray tube deliver exceptional speed and superior sensitivity, enabling low limits of detection for optimum screening accuracy plus a reduction in the number of costly analyses performed at laboratories.

The X-MET8000CG offers a class-leading battery life of 10-12 hours, and to eliminate user fatigue the ergonomic analyser, is not only perfectly balanced and lightweight at only 1.5kg (3.3lb), but is also equipped with the largest screen on the market at 11cm (4.3"). Additionally there are no tools required to replace the quick-swap analysis window. Despite being lightweight, the X-MET is rugged, with an impact-resistant plastic housing and IP54 rating for protection against dust and splashed water.