A World First In Static Elimination
Officially launching at ICE Europe 2015, NEOS is a new advanced method of static neutralisation, which is up to three times more powerful than existing equipment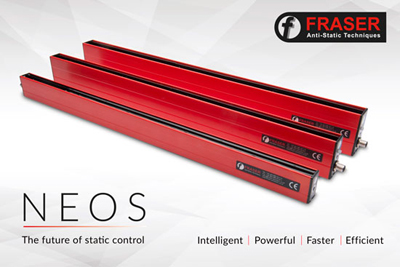 This represents a huge advance in practical electrostatics.

NEOS works by sampling the electric field of the static charge and then increasing the supply of ions of the opposite polarity until the charge is neutralised. The sampling can be many times a second, so the response is very fast. NEOS has been tested at process speeds of 2000m/minute to ensure that it can cope with the increasing speeds in the converting and papermaking industries.

NEOS technology was created at the Bristol laboratory of Fraser Anti-Static. Its development required the design and manufacture of a unique suite of computerised high voltage test equipment which Fraser believes is the most advanced in the electrostatics industry. It can be programmed to sequence a variety of tests automatically – doing in one day what previously had taken at least a month of manual testing.

In addition to providing ultra-high performance, with NEOS, the customer can also access local and remote monitoring. This displays both the operational status and whether the Bar needs to be cleaned. The customer also has the option to switch off the intelligence and use the Bars as conventional (powerful) static eliminators, making this the most flexible static eliminator available today.

All NEOS Bars are powered by 24VDC. All the ionising and sensing electronics are enclosed in the Bar. Tungsten emitters, replaceable on the NEOS 20 and 30, guarantee many years of high performance. The high voltage is resistively coupled for safety. All Bars are available in lengths up to 5m, with reinforced bodies for durability.

NEOS 12
Is designed for very high speed static elimination. At a distance of 50mm it can control static even with speeds of 1800m/minute, reducing a 50kV charge to below 1kV.

NEOS 20
Operating at 20kV creates a new market sector in static control – high performance at medium range distances of 150mm to 750mm, with automatic distance compensation. Sampling electric fields at this distance required the development of new ultra sensitive current measurement techniques.

NEOS 30
Is the most powerful static eliminator in the range, operating at distances from 200mm to over 1m. For longer distances, beyond the sensitivity of the sampling process, the operator can switch the Bar to manual and allow it to perform at distances up to 2m.