Fine Tubes And Superior Tube Exhibits At Topsides Platforms And Hulls 2015
UK-based Fine Tubes and US-based Superior Tube, world-leading manufacturers of precision tubes for critical applications, exhibited at the recent Topsides, Platforms & Hulls Exhibition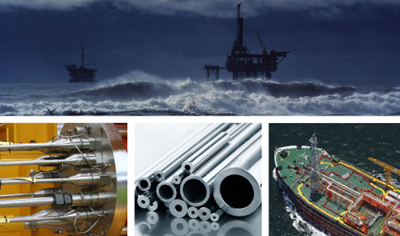 The Exhibition and Conference was held at the Moody Gardens Hotel & Convention Center in Galveston, Texas from 3rd to 5th February 2015.

Now in its fifth year, Topsides is the offshore industry's only event dedicated to the topsides, platforms and hulls required for both deep and shallow water. Incorporating a conference covering technical issues, business challenges and future trends as well as an exhibition that showcases the latest products from leading engineering firms, Topsides connects key decision makers, technical experts and suppliers from across the industry. In 2014, the event attracted a record number of 1,801 attendees from 25 different countries as well as 133 exhibitors.

As leading global manufacturers of stainless steel, nickel and titanium alloy tubes, Fine Tubes and Superior Tube have been supplying the Oil & Gas industry for over 40 years. Their extensive range of super austenitic and nickel alloy grade tubes, such as their alloy 625, 825 and 400 tubes, offer longer term solutions compared to traditional alloys for use in harsh offshore environments. Furthermore, their expertise in working with special grade stainless steels such as 904L and 6Moly make Fine Tubes and Superior Tube the ideal partner for the supply of instrumentation packages used in the topside construction of offshore FPSO and FPSS units, Spars and TLPs.

Continuing to innovate in the Oil and Gas arena, development plans have included gaining 9COM approval with Saudi Aramco for the supply of products to numerous projects (including Manifa FDP and Saudi Aramco's 'Long Term Agreement'), introducing the Alloy 825 grade with higher corrosion resistance and mechanical properties, and achieving approval by NORSOK to supply Super Duplex grade UNS-S32750.

Both companies will be presenting a selection of their latest product developments on Booth 1201.

Robin Hodgson, Business Development Manager Oil & Gas, commented: "This is an excellent opportunity for us to demonstrate how the close alliance between Fine Tubes and Superior Tube enables us to offer enhanced manufacturing capabilities, highly competitive lead times and a truly global service. We're looking forward to meeting existing and potential customers to discuss how we can best serve their most demanding tubing requirements".