New Polysafe Verona PUR Brightens Up School Dining Experience
With a combination of decorative appeal and sustainable slip resistance, Polyflor's new Polysafe Verona PUR sheet vinyl range continues to enhance a wide variety of commercial and residential environm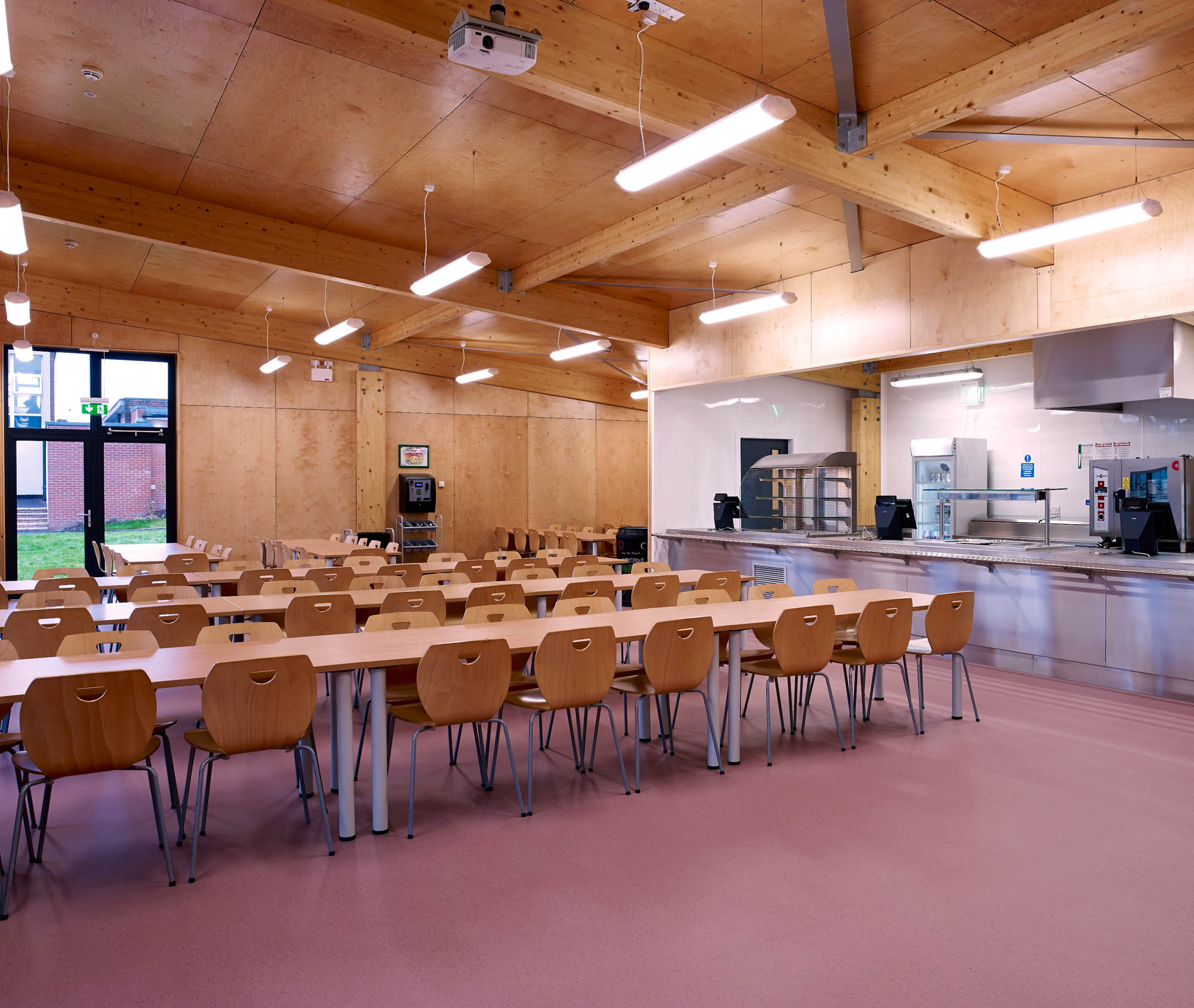 One such example is at Middleton Technology School in Manchester, where as part of a recent school refurbishment, the range has been installed into serving and dining areas of the school refectory, adding a bright and uplifting feel to the dining hall.

Fitted into a specially housed structure separate to the main school building, Polysafe Verona was the flooring of choice due to its very heavy commercial classification. This flooring is able to provide slip resistance in areas where there are regular spillages and a high volume of traffic, whilst still retaining an attractive appearance thanks to the product's carborundum-free design and PUR reinforcement for ease of cleaning.

Specified by main contractor H Bell & Sons (Rochdale) Ltd and installed by Winton Flooring in Manchester, the fresh hue of Summer Coulis 5217 has been used throughout front and back of house to provide a safe yet attractive floor finish that creates a welcoming and relaxing environment, suitable for pupils during lunch breaks.

Allison Crompton, Head Teacher at Middleton Technology School commented: "The motto at our school is 'in pursuit of excellence' and the installed flooring certainly fits our objective of having interior spaces that are fresh and project a positive ambience. As soon as we saw the new Verona range, we were impressed with the modern colours, particularly with the added benefit of slip resistance to give protection to our pupils. Our catering team is delighted with the end result, having picked the Summer Coulis shade at the outset to add some vibrancy to the area."

Chris Bell, Director at H Bell & Sons (Rochdale) Ltd adds "We are very happy with this safety flooring installation. As a company that has been established over 100 years, we also like to use interior products from longstanding suppliers such as Polyflor with a reputation for good quality products. The Verona range ticks the box perfectly and ideally complements the use of natural wood tones and overall angular style of the building which has leanings to contemporary Scandinavian design principles."

In educational settings, it is vital for a safety floor to perform and Polysafe Verona is fully certified to achieve the tried and tested Polysafe slip resistance credentials. Meeting HSE and UK Slip Group Guidelines to deliver sustained wet slip resistance throughout the guaranteed life of the product, Verona achieves 36+ on the Pendulum wet test and has a surface roughness of 20 microns and above, classifying the product as low slip potential. Verona fully adheres to EN 13845 – the European Standard for safety flooring and meets the 50,000 cycles abrasion test, ensuring the virtually invisible particles incorporated into the product are sustainable and provide continued friction over the long term.

To aid maintenance, Polysafe Verona contains the renowned Polysafe polyurethane reinforcement (PUR) cleaning technology and through the use of natural recycled aggregates the product contains recycled content, being 100% recyclable via the Recofloor scheme. The product is readily available from Polyflor's national network of flooring distributor partners.