Five Great Reasons To Invest In Noise Measurement Technology
There are so many competing models on the market these days that, selecting the right product for your chosen application, can be time consuming and confusing.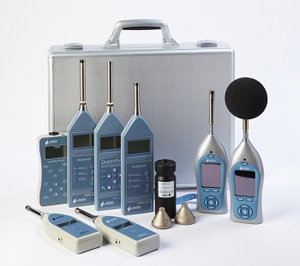 There is a reason why Pulsar Instruments are the fastest growing manufacturer of noise measurement instruments in the world.

If you have not heard of our company yet, now is the time to find out why increasing numbers of safety professionals around the world put their trust in our noise measurement products and expertise.

Here are 5 great reasons why you should contact us today before you go any further with your purchase.

1. You will invest wisely by choosing an established company
Buying from a well-established and respected company like Pulsar Instruments, with 45 years' experience in its field, has its benefits. The company is not another brand and gone tomorrow. Therefore you can be confident that the products we offer have been tried and tested carefully on your behalf. Importantly, once the purchase has been made, this is not the end of the relationship. You will continue to benefit from expert guidance, training and maintenance services for many years to come.

2. You will benefit from British technology and know-how
We are proud to be a British company, based in Yorkshire. The company was started in 1969 by two British engineers, passionate about acoustics. Whenever possible, we employ local talents such as designers, engineers and assembly workers as part of our manufacturing process. By choosing us, you will benefit from highly innovative products that make use of the latest technology available and that are a credit to British acoustics and electronic engineering.

3. You will receive expert advice on Noise at Work, every time
If your aim is to find a product to help you comply with the current Noise at Work regulations, you are in the right place. We help professionals like you all the time. If you are looking for initial advice on the regulations, why not download our FREE Employers Guide from our website as a first step? We also have a number of in-house experts for different work applications and who will be happy to talk to you should you need further clarification on the regulations and advice on the best product to meet with your requirements and budget.

4. You will be surprised at how easy the technology is
Noise measurement technology has come a long way since its inception. Don't be put off from undertaking your own workplace noise surveys, you can do it and it is easier than you think. Some instruments only have a few buttons or involve just a small number of steps to obtain and display the essential parameters that you need to provide under the regulations. The instrument will not do the survey for you though so, you will still be required to go around and/or at the boundary of your premises to physically collate the noise measurement data! We guarantee that today's instruments are much simpler to operate. Anybody with the right training can have the confidence to take noise measurements with our technology.

5. You will get a return on your investment
Our noise measurement products are not just made for indoor measurements, they are great too in noisy, busy and 'messy' environments such as in engineering, quarrying or construction/demolition. The outer casing housing our sound level meters or noise dosemeters is built to last. This is because it is mostly made out of durable die cast metal for maximum protection that will withstand the very occasional mishandling. (We do recommend care and attention though!)
As a customer, you will benefit from a whole range of after sales services helping you protect your investment. For example, all our products undergo regular recalibration services, carried out by our dedicated service engineers to maintain accuracy as well as receiving regular software.

If you are willing to look after your instrument and return it to us regularly for verification, you will be able to enjoy it for many years or even decades to come, ensuring a return on your original investment. Not a bad deal when compounded with all the other benefits in this article!