Pegler Yorkshire Launches New Range of Valves
As a recognised innovator and market leader in the field of Thermostatic Mixing Valves, Pegler Yorkshire has responded to changing market needs to deliver a new Pegler thermostatic mixing valve range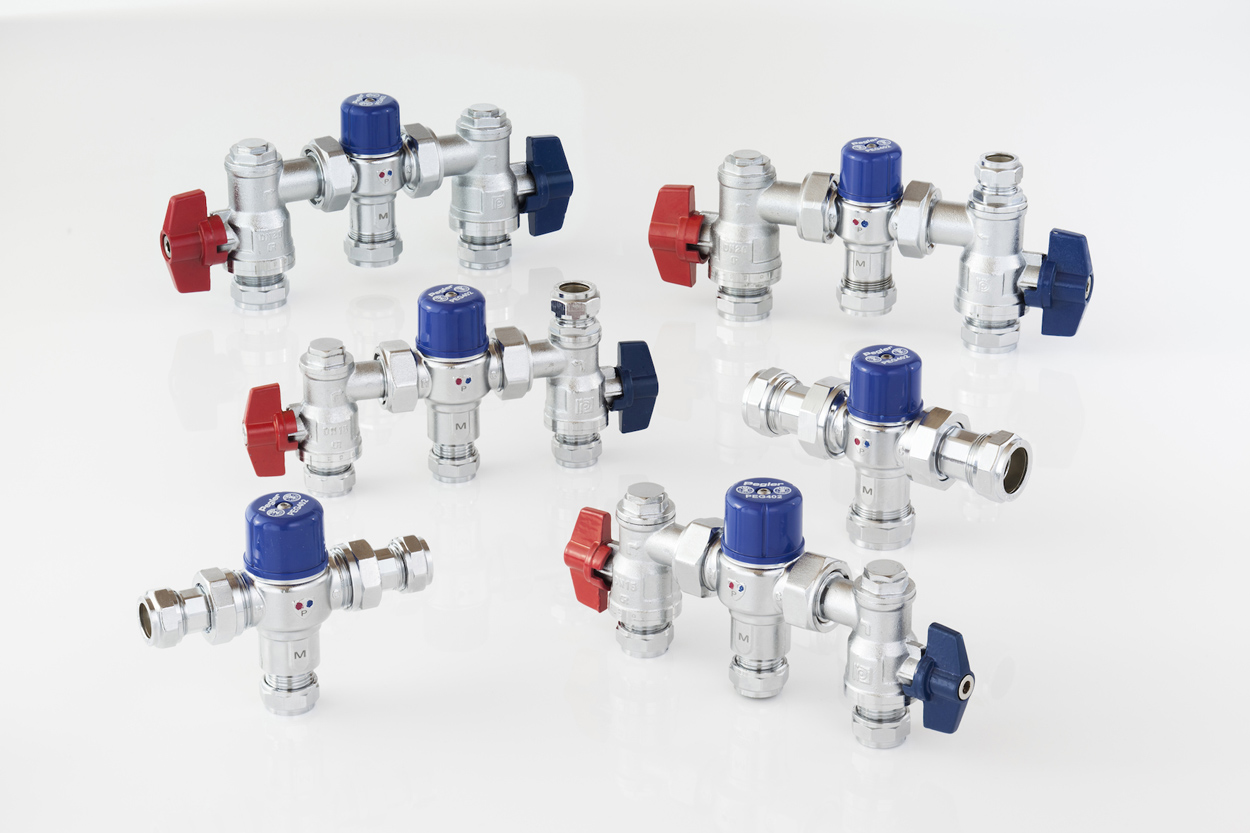 The range greatly simplifies the valve selection process whilst at the same time enhancing product performance.

Traditionally, Pegler Yorkshire has manufactured anti-scald valves with enhanced performance for the healthcare market (Type 3) and a separate valve for general and domestic applications (Type 2). The new more compact Pegler PEG402 series of valves meet the requirements of BS and EN standards, are WRAS approved and boast the BuildCert certificate for both TMV3 and TMV2 schemes.

Pegler Yorkshire's Product Market Manager Barrie Plant said: "The availability of our PEG402 thermostatically controlled anti-scald valves meet the needs of Hospitals, Care Homes and Domestic markets in a combined valve.

"Commissioning the valves continues to differ depending on the application. An "Installation Instruction and User Guide" is included with each valve, explaining the installation, commissioning and servicing regime for both TMV3 and TMV2 requirements."

Pegler Yorkshire has strived to ensure the new TMV valve benefits not just the end user, but distributors, installers and contractors. For the distributor the reduction in variants makes for a clear choice and reduced stocking levels.

For installers and contractors, the new valves still retain the ease of service advantages of the previous model, but this new series of PEG402 valves benefits installers further with its flexibility in meeting most application requirements. No matter what the situation, specifiers and installers can now be certain they have the right product for the job – a vital consideration in one area where mistakes can literally cost lives.

The new PEG402 now includes pre-fitted inlet wafer filters to protect the sensitive thermostatic valve element from system debris. These valves are complemented by the union angle valve options (UA) that have isolating valves, filters, non-return valves and inspection/test points for flow and temperature measurement.

A new variant to the UA model with an additional outlet on the cold angle valve (UAX) provides for a connection to a terminal fitting, removing the need for additional fittings. With sizes 15mm and 22mm this means that the new Pegler PEG402 range consists of six variants.

"After years of campaigning, TMVs are now recognised by government and installers alike as essential where water needs to be kept hot to prevent the threat of Legionella, yet still be delivered at a safe temperature at the point of use," continued Barrie. "Our new TMV range is the culmination of years of know-how in the field - delivering valves with a lower profile and advanced features and enhanced design, as well as meeting the strict tests and standards necessary for this type of anti-scald valve."

The new TMV range complies with BSEN1111, BSEN1287 and BS7942 (supporting the NHS Model Engineering Specification DO8) standards, while independent third party testing and approval through the BuildCert TMV2 and BuildCert TMV3 schemes ensures the consistent quality and performance associated with Pegler Yorkshire valves.