New Inductive Charging Option for WiGauge Bore Gauge
Solartron Metrology, a recognized leader in linear measurement and dimensional gauging, has introduced an inductive charging option for its well-established WiGauge™ wireless bore gauges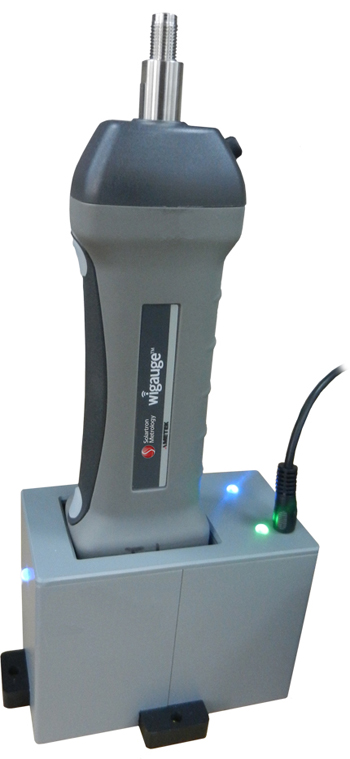 The new battery pack charges the device whenever it is placed into the charger cradle, allowing the tool to be used continually with little or no down time.

With built-in heat and time restrictions, the versatile gauging tool will not overheat during long charging periods nor will it charge for over 24 hours, permitting the tool to be left over weekends or over long holiday periods without any safety or performance concerns. The WiGauge's inductive battery can last up to 5 hours on a single charge.

The WiGauge offers manufacturers greater freedom and flexibility in the design and placement of manufacturing work stations. Its IP65-rated design makes it the perfect choice for demanding factory floor conditions. The device is well suited for manufacturing operations, such as automotive components, that produce precision bored holes.

The wireless device utilizes Class 1Bluetooth® technology to transmit data up to 15 metres away, however Class 2 and 3 can be selected if required. This wireless capability allows an operator to test components unencumbered by the cables that typically accompany this type of electronic gauge, and it eliminates the need for cables to download measurement data.

The gauge operator is notified via visual and audio pass/fail indicators as to whether a machine tool component is to specification. For multiple operator convenience, multiple WiGauge's can be connected to a single computer.

The WiGauge Gen II is offered with an optional integral LCD display for added flexibility and functionality.

Both WiGauge Gen I and II are compatible with industry standard M6 and M10 gauge head threads. The internal transducer is linear along its full measuring range, making the devices easy to set up and adaptable for applications other than bore gauging. Resolution is user selectable up to 0.1 µm.

Solartron Metrology is a world leader in design and manufacture of precision digital and analogue dimensional LVDT gauging probes, displacement sensors, optical linear encoders and associated instrumentation. It is a unit of AMETEK, Inc., a leading global manufacturer of electronic instruments and electromechanical devices with annualized sales of US$4.2 billion.