First Aid Kit Launched For Early Diagnosis Of Excessive Noise Levels
Pulsar Instruments has launched a First Aid Noise at Work monitoring kit to monitor noise levels quickly and enable employers to take a first step towards noise at work compliance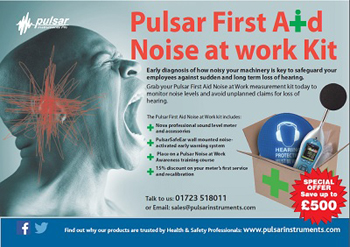 With a Pulsar First Aid Noise at Work monitoring kit, even a non-trained safety professional can undertake a noise assessment at any time and interpret the data measurements to locate an offending piece of equipment or practice that is causing harm to workers' hearing.

With the number of claims for noise-induced hearing loss (NIHL) on the up, it is paramount for employers to act quickly against noise to prevent any damage to their business.

The kit comprises of the Pulsar Nova Model 44 latest professional sound level meter, a handheld noise monitoring device, and its data logging software Pulsar AnalyzerPlus. This outstanding software is preconfigured to transform the measured data into informative and easy to read reports.

The kit also includes the popular PulsarSafeEar noise-activated warning sign which can be mounted on a wall and flashes a warning message to staff and visitors alike when noise exceeds pre-set levels.

In addition to the instrumentation, the kit also comes complete with a place on a Noise Awareness course delivered by Pulsar Instruments at one of the three venues on offer.

The First Aid noise at work kit from Pulsar has been put together specifically for the demanding requirements of noisy industries at a reduced price, allowing a saving a £500 on normal prices.

It is well suited for use in a wide range of applications including manufacturing, engineering, warehousing, catering and education just to name a few.

Sarah Brack, Managing Director of Pulsar Instruments, said "The success of our Noise at Work monitoring instrumentation demonstrates the demand for such a package and we believe that the Pulsar First Aid Noise at Work kit will represent a significant saving on the Health and safety budget and a valuable tool to help control excessive noise in the workplace".