Perpetual Light Is Latest Discovery At Morris Site Machinery
Following the launch of its SMC Solar-2, Britain's first solar tower light in autumn 2013, Morris Site Machinery has recently announced a ground breaking performance statistic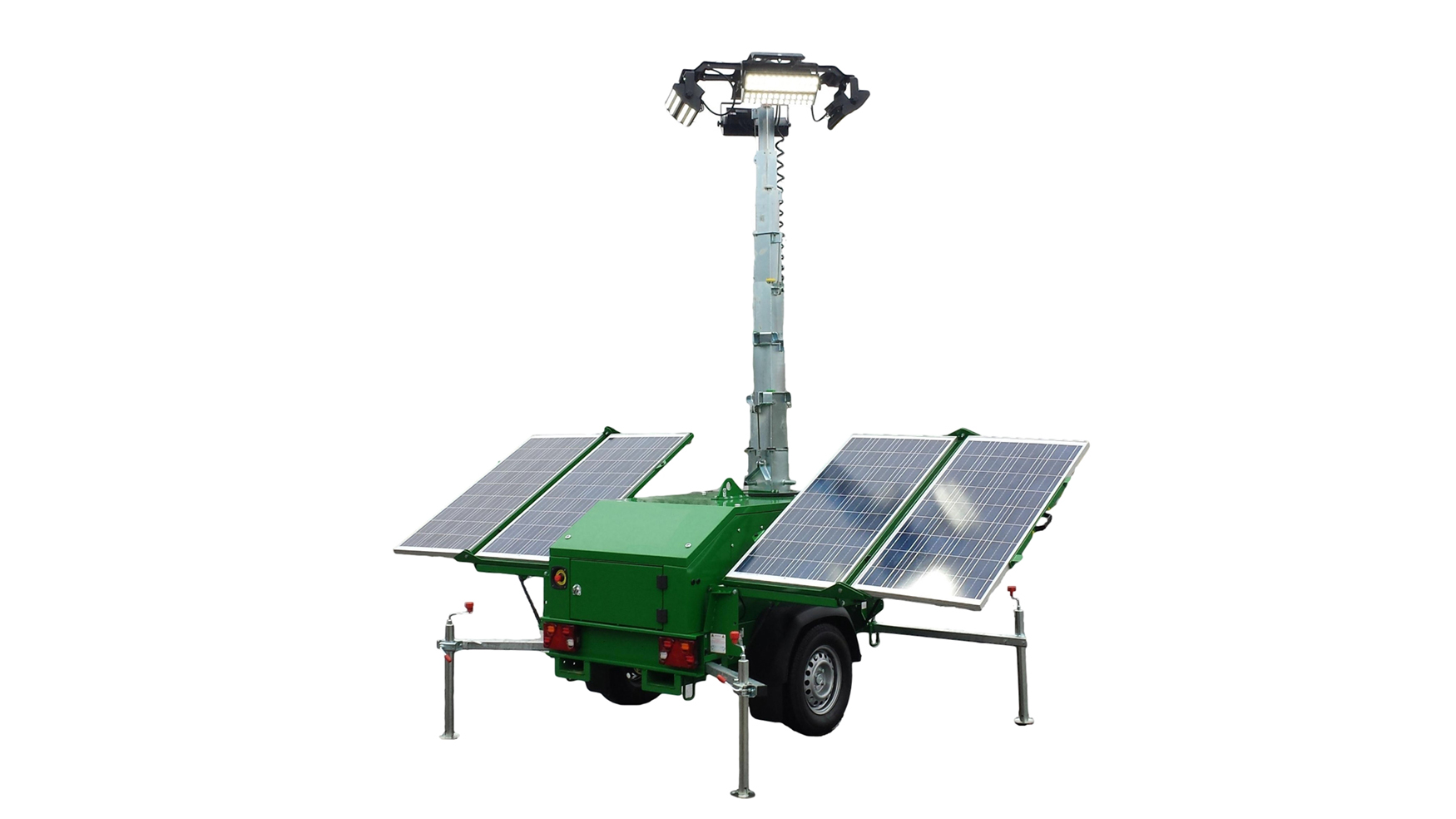 SMC Solar-2 Lighting TowerDeveloped over a three year period, the SMC Solar-2 has superseded the performance levels originally achieved by earlier prototypes.

Recent tests proved the tower generated more power each day through its solar panels than it needed for each night of operation, achieving an excess power to requirement ratio. In the 2 month long test the SMC Solar-2 ran autonomously, coming on each night for between 8-10 hours via a photocell light sensor, without any human intervention or assistance from an outside power or fuel source.

In the trial, the SMC Solar-2 lighting tower achieved an indefinite run status*, a first in the industry.

These latest results further augment the company's ambition remain at the forefront to offer an environmentally friendly, zero emissions, zero run cost and zero noise lighting tower for the industry.

Compared to a standard lighting tower, based on an average of 12 hours a day working across a year of 260 working days, Solar-2 can save operators over £4,000 per tower on fuel and maintenance costs.

The SMC Solar-2 has already caused a stir in both British and international markets since its recent launch generating significant interest overseas including Chile following its launch at Expomin in Santiago. The SMC Solar-2 lighting tower is now set to become a dominant force in light of the company's latest announcement.

Morris Site Machinery's Managing Director, Phil Winnington, said: "We continually review our products and place them into a series of test scenarios which allow us to challenge and review performance, looking at how we can improve, enhance and develop them further - we never rest on our laurels.

"This latest result proved exceptional and even though we were confident in the machines ability, we were delighted to see it achieving an indefinite run. We are all thrilled by the outcome of this trial as it's testament to the abilities and drive of our in house design and engineering team.

"There is an increasing demand for technology which reduces carbon emissions and our solar lighting tower is a bespoke solution to meet this.

"Solar powered products are now being considered not only for their cost savings but also their performance. The need worldwide has never been greater and this breakthrough bolsters the reputation of the SMC Solar-2 within the industry, positioning Morris Site Machinery as a leader in innovative lighting solutions. This result came from a UK based test so when operating in countries with higher levels of solar radiation the running capabilities of this product are virtually unlimited."

Designed, built and developed in Great Britain by the team at Morris Site Machinery, this pioneering solar lighting tower provides 100% fuel saving and importantly emits zero CO2 and zero noise.

The SMC Solar-2 tower light also benefits from four high lumens LED bulbs, providing a clean crisp light with 360 degree coverage whilst its fully adjustable tower and mount heads ensure that light is directed to the required source to keep teams working safely.

Requiring virtually no maintenance, the SMC Solar-2 is the ultimate solution for hirers and users looking for an environmentally friendly, cost effective and self-sufficient lighting tower.

* Peak performance delivers continuous power - depends on quality of daylight and based on 8-10 hours of operation within every 24 hours.