Potato Producer Is Chipper About Packing Palletising Automation
Following the installation of an automated sack packing and robotic palletising line from Pacepacker Services, potato producer Foden & Abel is poised to launch a contract vegetable packing service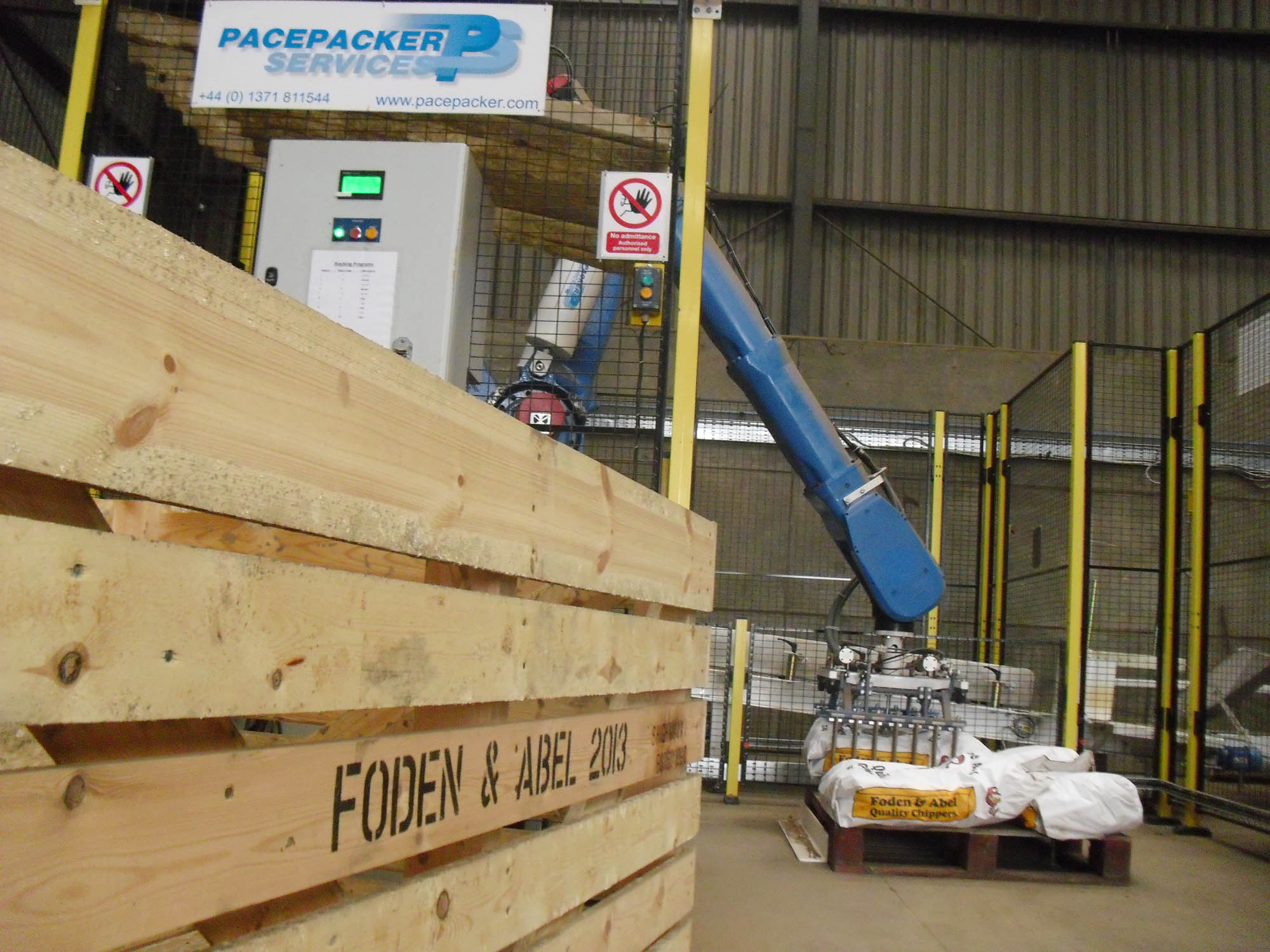 Lugging around sacks of spuds is back-breaking work, and no-one knows this better than Foden & Abel. Until very recently, the West Midlands based firm was packing and palletising 25kg sacks of potatoes on a manual line operated by four people.

"Our old system was very labour intensive, slow and fraught with health and safety issues. We were packing six tonnes of potatoes per hour, which meant someone had to physically carry 40 sacks to each pallet," says Chris Abel, one half of the mother-son partnership that runs the 200-hectare century-old family farm near Lichfield, Staffordshire.

The farm's core business is growing 'chipping' varieties of potato, such as Challenger, Leonardo and Markies, for supply to fish and chip shops and wholesalers nationwide. To take the 100-year-old business forward, Foden & Abel is diversifying into packing root vegetables and onions for other farms, as well as offering temperature controlled storage facilities that are conveniently located close to the motorway network.

In order to realise these ambitions, and to eliminate health and safety challenges on the existing line, it was clear that Foden & Abel needed to invest in automated packing and palletising machinery.

After shopping around, the potato producer decided to go with Pacepacker Services, a designer and manufacturer of automatic bagging systems and integrator of FANUC robots.

"We wanted something that was proven in the industry, and Pacepacker was able to take us to see their equipment in operation at other customers' factories. This gave us the confidence to invest," says Chris Abel.

In August 2013, Pacepacker installed a turnkey line, comprising a C21 sack placer, a fall and turn kicker, a Total Bag Control (TBC) system and a Blu-Robot palletiser.

Empty paper sacks are placed onto the sack clamp by the C21 sack placer, and the clamp holds the sack steady as it is filled with 25kg of potatoes. The TBC system then transfers the filled sack from the sack clamp to the stitcher in a controlled manner.

"The TBC system controls bags all the way from filling clamp to sealer or stitcher. The second the sack is filled, a pair of motorised grip arms move around the bag and as it drops from the clamp, they close on the top of the bag, holding it in its formed state. The bag is then held closed as it is transported to the sealing device, using the grip arms and a belt feeder that move in synchronisation with the conveyors sitting underneath," explains Chris Francis, sales manager at Pacepacker.

After stitching, the bags are gently laid flat by a fall and turn kicker for presentation to the robotic palletiser.

Pacepacker's Blu-Robot palletisers are re-conditioned six-axis robots that originate primarily from the automotive industry. The robots, which are approximately a third of the way through their lifespan, are supplied to packaging users pre-programmed and complete with end-of-arm tooling, controls and a 12-month warranty with service and spares back-up. They are typically half the cost of a new system, enabling the user to achieve a far quicker payback.

"The Blu-Robot is capable of palletising up to 15 bags per minute. Buying a new robot may mean investing in an over-specced robot and paying for capabilities that simply aren't needed," explains Chris Francis.

At Foden & Abel, the Blu-Robot is currently palletising seven sacks per minute, which equates to 10 tonnes per hour, and the process only requires two operators. This compares to a previous output of six tonnes per hour, with four operators.

"The higher speed makes our contract packing offering very attractive; people can bring their bulk potatoes to be bagged and we can turn an artic lorry round in three hours," comments Chris Abel.

And the benefits of the new line extend beyond greater packing capacity and reduced manual intervention, to enhanced presentation of the sacks and pallets.
"Thanks to the TBC system, the appearance of the sacks is more consistent; the stitching is even, not jagged like with a manual process, and the robotic palletiser's ability to stack sacks neatly and uniformly means every pallet looks exactly the same. This projects a really professional image for our business," adds Chris Abel.

The new line also enables Foden & Abel to offer potential customers a very flexible packing service. Whilst its own potatoes are sold in 25kg sacks, the Pacepacker line can accommodate a range of sack weights, from 2kg up to 50kg, and is equally at home handling sprouts, carrots and onions.

In fact, the only limit to the line's performance is the weigher, and once the contract packing service takes off, Foden & Abel has plans to upgrade to a double head weigher. This will give a capacity of 12-13 tonnes per hour, a target that is comfortably within the capabilities of Pacepacker's award-winning equipment.