Fixsafe Rooflight Replacement System Gains Approval
Exeter-based Progressive Maintenance Ltd. has recently used Filon's innovative Fixsafe system to safely replace profiled rooflights on an industrial building in Cullompton, Devon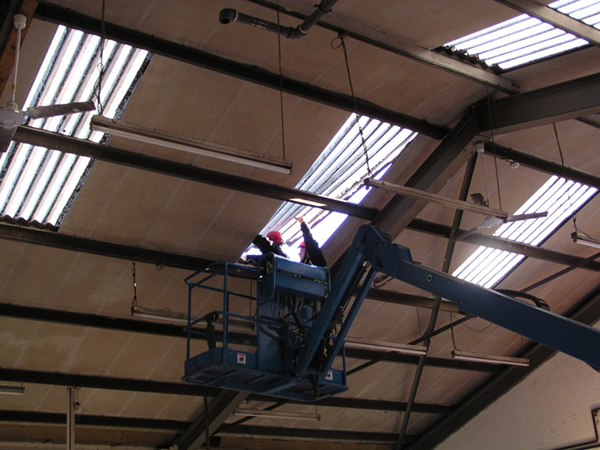 The existing rooflights were extremely discoloured, resulting in very low natural light levels in the building and some were damaged, allowing water ingress.

Steve Bealing of Progressive Maintenance Ltd. takes up the story: "In the past, we have avoided projects involving asbestos or fibre cement roofs due to the risks involved. Then we heard about the Fixsafe system and were planning to try it out. This building provided the ideal way for us to put Fixsafe to the test."

Fixsafe is conforms with the Health & Safety Executive's (HSE) preferred method of replacing rooflights or roofsheets in profiled roofs, facilitating complete replacement from inside the building, with absolutely no need to access dangerous fragile roof areas. The system not only removes the risk of falls through fragile roof areas: it also eliminates the costs and time involved in assembling costly scaffolding, roof staging and safety netting.

Although originally designed for single skin asbestos cement roofs, it is very adaptable and has been used successfully on twin skin asbestos and metal roofs. It can also be manufactured to an opaque colour to replace a damaged sheet.

Following a survey, it was established that the discolouration of the rooflights at Cullompton was mainly due to algae growth which could be removed by cleaning. However, five out of the twelve rooflights on the site were damaged and needed replacing.

Most Fixsafe projects to date have been carried out using a scissor lift, but in this case, an electric boom lift was required, to allow access to the roof space without the need to move heavy machinery on the factory floor.

Steve Bealing continued: "The theory of Fixsafe is sound. By keeping people off the roof, safety will be improved. However, we wanted to know how the system performed in practical terms, under the time and cost constraints of a live project. This exercise has proved that Fixsafe meets expectations for improved safety, ease of installation and cost-effectiveness. We will definitely be using it again and will be confident to accept projects we may have previously rejected on safety grounds."

Filon has recently extended the Fixsafe range to include all three fire grade options including an SAB 3 rated grade, making the system more cost-effective across a wider spread of applications.